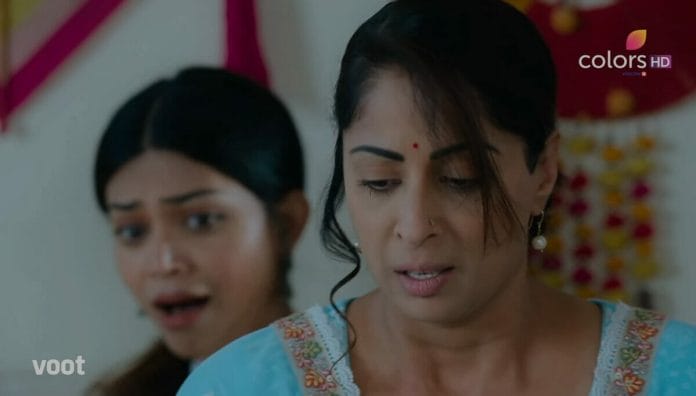 Swaran Ghar Upcoming Story, Latest Gossip , Future Story, Latest News and Upcoming Twist on tellyexpress.com
Swaran Ghar depicts the emotional turmoil and rollercoaster journey of an aged widow mother Swaran on ColorsTV and voot app. Currently we are seeing that Ajit saves Swaran at police station. Swaran helps Nakul to come out of jail. Rajeshwari gives approval for Arjun and Swaran's marriage.
In the previous episode, Police took Nakul to police station forcefully. Swaran went to police station with Sharvari and asked Nakul to not worry. Vikram observed everything from a distance. He called and asked someone to bring something. The ladies who launched the complain lashed out at Swaran.
Swaran felt sorry seeing their allergy and took initiatives to treat them. The inspector got a file and arrested Swaran for being the owner of Swaran Nikhar. Ajit heard news about Swaran Nikhar's scam and arrived at the police station.
He showed newspaper articles to police and stated that Swaran had no connection with the company. Swaran's lawyer submitted the legal documents. Police removed Swaran's handcuffs. Swaran requested police to leave Nakul. The ladies asked Swaran if she could apply the cream on her face.
Swaran got ready but the ladies stopped her. They took their complain back. Nakul came out of jail. Swaran tried to talk to Ajit. Ajit said that he fulfilled his duties only. Rajeshwari got convinced for Swaran and Arjun's marriage.
In the upcoming episode, Aarav asks Swaran if she brought his father out of jail. Sharvari says that both Swaran and Ajit saved Nakul. Aarav calls Ajit power uncle. Swaran brings some container out of cupboard. She says that the case is not dismissed and Vikram can't run away forever, he has to show up soon.
Will Vikram admit his mistake? Will Swaran be able to rectify her sons' deeds? Will Arjun propose Swaran? Will Swaran agree for the marriage?
To know stay tuned to Swaran Ghar on ColorsTV/Voot app and this space.