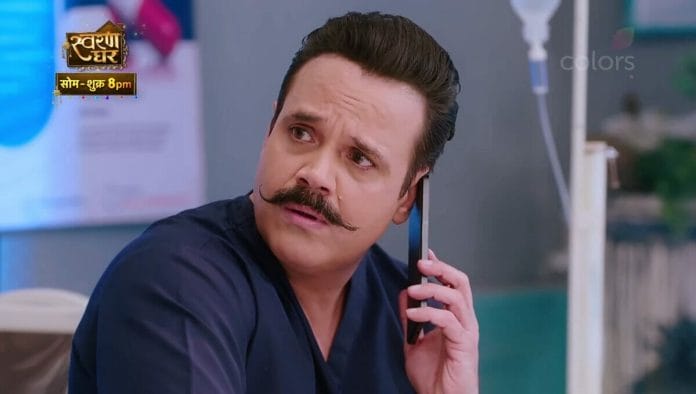 Swaran Ghar Upcoming Story, Latest Gossip , Future Story, Latest News and Upcoming Twist on tellyexpress.com
Swaran Ghar depicts the emotional turmoil and rollercoaster journey of an aged widow mother Swaran on ColorsTV and voot app. Currently we are seeing that Swaran gives a plan to Yug. Balli returns home. Saroj complains about Swaran to him. Balli questions Chandni.
In the previous episode, Swaran shed joyful tears at seeing Ajit. She fed him the food. Swaran received praise from Jai for Ajit's development. He inquired as to whether the police had returned. Swaran replied "no." She bid Ajit farewell and vowed to see him the following day. Chandni hid the jewellery in Swaran Ghar she had earlier stolen.
When the police came at Swaran Ghar, Chandni got scared. Saroj got confused. Chandni hid from view. She prayed to God for assistance as she reflected on Swaran's remarks. Since they didn't have any lady constable with them, the police left.
Chandni got relief. To meet Nakul, Swaran travelled to the hospital. She was told about Balli by Nurse, who asked her to meet him. Balli and Swaran met. Balli received a telephone complaint from Saroj regarding Swaran. Balli disconnected the call and questioned Swaran about it. Saroj phoned him once more.
Balli informed Saroj that he was reprimanding Swaran for upsetting him. When Swaran was present at Swaran Ghar, Saroj questioned how he could reprimand her. They both became perplexed. Balli heard from Swaran that Saroj had consumed alcohol earlier in the day. Balli declared that when he gets back to Swaran Ghar, he will discover the truth.
Swaran left his cabin and emerged. She became concerned and provided Yug a plan. Balli was brought back by Saroj at Swaran Ghar. To do the Aarti, Saroj called Swaran. Balli's finger was purposefully burned by Chandni when she dropped the diya.
Balli cried out in agony. Chandni described it as accidental. Saroj treated his injuries with medicine. Balli requested for water, but Chandni gave him alcohol instead. She acknowledged feeling afraid.
Moving Saroj's luggage from Bebe's room to Balli's room was something she said to Saroj. Balli became agitated and questioned her about what she had done.
In the upcoming episode, Swaran begs Baljeet not to harm Ajeet, pleading with him. Baljeet twists her hand and says, "I'm not leaving you today, I'm going to kill you," before choking her. Ajeet notices Swaran in pain.
To know what happens next stay tuned to Swaran Ghar on ColorsTV/Voot app and this space.