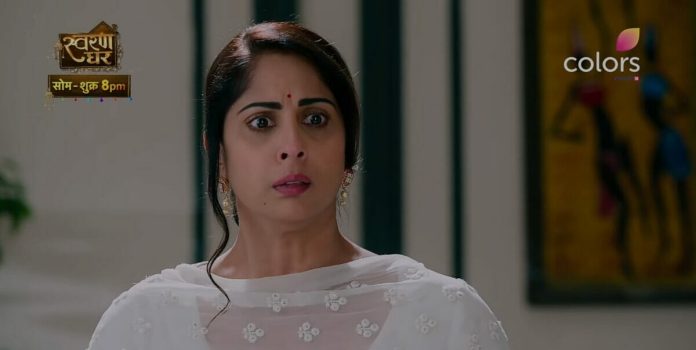 Swaran Ghar Upcoming Story, Latest Gossip , Future Story, Latest News and Upcoming Twist on tellyexpress.com

Swaran Ghar depicts the emotional turmoils and rollercoaster journey of an aged widow mother Swaran on ColorsTV and voot app and currently we are seeing that Swaran gives credit to her sons at Duggal store. Bebe insults Ajit. Swaran asks her not to demean Ajit.
In the previous episode, Swaran left for Mr. Duggal's office. The auto driver told Swaran that someone was following them. Swaran spotted Ajit coming towards her auto. Ajit asked Swaran if she would take her sons' names at Duggal's office.
Swaran said yes. Swaran delivered the order and got the cheque. Swaran gave credit to Nakul and Vikram for making the cream. Bebe called Divya and asked her to come over to Swaran Ghar with Jai and Ankita. Jai informed Ajit about arriving at Swaran Ghar. Ajit left for Swaran Ghar and decided to not spare Vikram if he is behind this.
Bebe asked Ajit to have a sit. Ajit went to sit but Bebe put her foot forward so that Ajit stumbles and falls. Divya protested against such behaviour. Bebe said that Ajit was interfering in their family matters like this. Bebe told Ajjt that he and Swaran had disrespected their dead spouses.
She said that Ajit was not only shameless but also a person with no self-respect. Ajit said that he was accepting every insulting word of Bebe and would leave Swaran Ghar. He asked her not to bash Swaran as she had always protected Kanwaljeet's pride and kept him at the place of her God. Swaran observed everything. She touched Bebe's feet and said that Bebe can't insult Ajit. 
In the upcoming episode, Swaran says that Ajit has supported her when the whole world went against her. She adds that Kanwaljeet had brought Ajit and Ajit will stay to respect Kanwaljeet's words. Swaran announces that Ajit will not go anywhere.
Will Ajit stay at Swaran Ghar? Will he be able to keep his words given to Kanwaljeet? Will Swaran face backlash? Will Vikram oppose Swaran?
To know stay tuned to Swaran Ghar on ColorsTV/Voot app and this space.