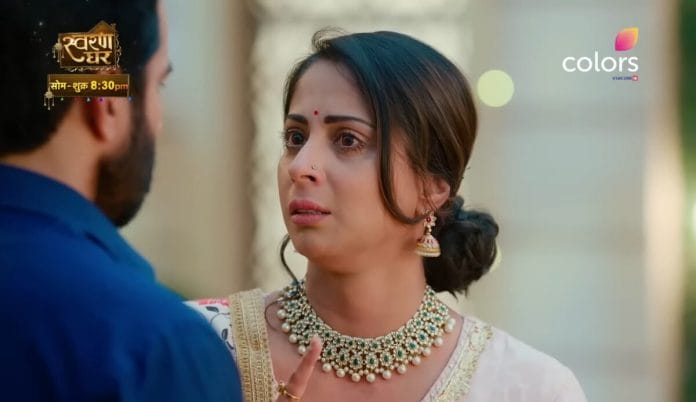 Swaran Ghar Upcoming Story, Latest Gossip , Future Story, Latest News and Upcoming Twist on tellyexpress.com
Swaran Ghar depicts the emotional turmoils and rollercoaster journey of an aged widow mother Swaran on ColorsTV and voot app and currently we are seeing that Yug and Nakul reunites with Swaran. Vikram plans to spoil Swaran's birthday. Swaran gets stunned seeing Ajit's gift.
In the previous episode, Divya met Swaran and wished her happy birthday. Swaran thanked Divya and asked her to stay. Divya said that she had bhandara at home. Ajit hugged Divya. Divya informed Ajit about the bhandara and asked him to deliver his dhaba's food. Divya also asked him to appear at her in-laws house before 8 pm. Ajit planned to handle both bhandara and Swaran's birthday. Swaran paid the first installment of the necklace she kept mortgaged. Ajit spotted Swaran outside jewellery shop. Ajit wished happy birthday to Swaran. Aarav, Nakul, Yug came to Swaran Ghar and wished happy birthday to Swaran. Swaran hugged them. Vikram informed Kiran that food and security officers will seal Ajit's dhaba and he will reveal the photograph at the party. Ajit sang the same song for Swaran which Kanwaljeet use to sing for her. Ajit gave Swaran her gift. Swaran became stunned seeing the necklace.
In the upcoming episode, Swaran shouts at Ajit that their paths got separated and she doesn't want to see Ajit's face ever. Ajit reaches his dhaba and announces before the food and security officers that he won't let them seal his dhaba as he has to prepare food to deliver to his daughter's house. Ajit starts cooking and meets with a fire mishap.
Will Ajit be fine? Will Swaran go back to Ajit? What destiny holds for Swaran and Ajit? What will Vikram do next?
To know stay tuned to Swaran Ghar on ColorsTV/Voot app and this space.