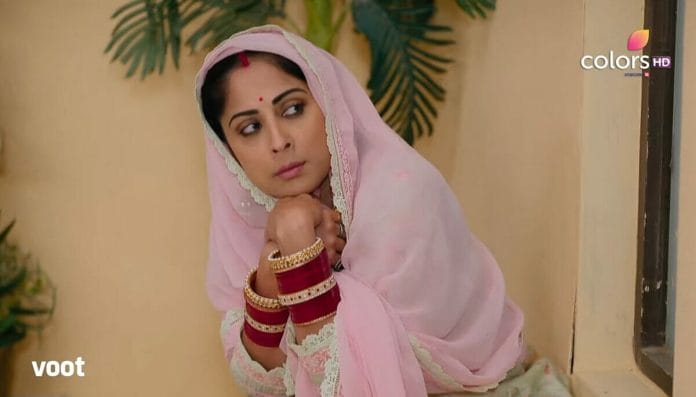 Swaran Ghar Upcoming Story, Latest Gossip , Future Story, Latest News and Upcoming Twist on tellyexpress.com
Swaran Ghar depicts the emotional turmoil and rollercoaster journey of an aged widow mother Swaran on ColorsTV and voot app. Currently we are seeing that Chandni disguises herself as Swaran and signs on the property papers. Balli finally goes for the liver transplant surgery. Jai takes Swaran to Ajit.
In the previous episode, Balli questioned Yug for arriving at Swaran Ghar late night. Yug said that he had come to inform Swaran about his movie. Chandni saw both Swaran and Balli. She felt sorry for Swaran and planned to teach lesson to Balli. Yug wished to talk to Swaran alone. Balli didn't allow him and asked him to leave.
He doubted that Yug was hiding someone. He went to check but Chandni hided herself by that time. Bebe mixed sleeping pills in Swaran's milk as per Yug's instructions. Next day Chandni disguised herself as Swaran and arrived at the hospital. She signed property papers as Swaran and winked at Yug.
Balli finally went to operation theatre for the liver transplant surgery. Swaran waked up at Swaran Ghar and worried about Nakul's surgery. She tried to leave for hospital. Jai disguised himself as taxi driver and took Swaran to Ajit. Swaran got emotional seeing Ajit. She cried holding him.
In the upcoming episode, Swaran asks Jai, "Do you mean to say that right now in the hospital is my lookalike who signs the papers?" Jay considers sending Chandni to be God's blessing.
Swaran says that being herself is dangerous for Chandni. Neelima learns from Bebe that the lady inside is not Swaran. Saroj comes there and asks "What did you say?"
Will Saroj learn about Chandni? Will Chandni land in trouble ?
To know stay tuned to Swaran Ghar on ColorsTV/Voot app and this space.