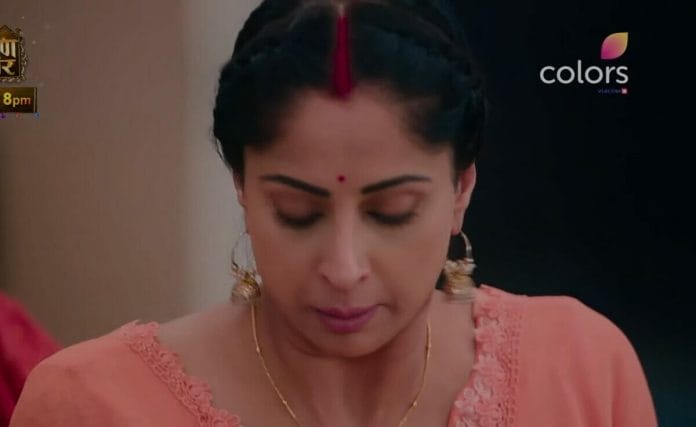 Swaran Ghar Upcoming Story, Latest Gossip , Future Story, Latest News and Upcoming Twist on tellyexpress.com

Swaran Ghar depicts the emotional turmoil and rollercoaster journey of an aged widow mother Swaran on ColorsTV and voot app. Currently we are seeing that Chandni gets convinced to help Swaran and teach lesson to Balli. Yug asks Swaran to meet her outside Swaran Ghar. Swaran tries to go outside at late night but Balli catches her red handed.
In the previous episode, Yug told Chandni the whole tragic story of Swaran and Ajit. How Swaran had to marry Balli in place of Ajit to save Nakul's life. Yug also told Chandni that Balli even tried to kill Ajit at hospital where Jai saved Ajit from him.
Jai begged before Balli to save Ajit. Balli asked him to go away from his and Swaran's life with Ajit. He also asked Jai to write a letter for Swaran. Balli gave that letter to Swaran where Jai asked her to stay away from Ajit and his family.
Jai felt guilty for writing that letter but he had no other choice. He feared that Ajit would not forgive him ever for that. Chandni got impressed with Swaran and Ajit's love story. She praised Ajit. She got convinced to help Swaran and teach Balli a lesson.
At Swaran Ghar, Balli lashed out at Swaran for serving her unclear water. Swaran apologized to Balli and gave him fresh water. Yug and Jai planned to send Chandni in place of Swaran.
Chandni dressed up as Swaran and acted infront of them. They got super impressed with her. Yug called Swaran and asked her to meet him outside Swaran Ghar for Ajit's betterment. Swaran tried to leave house when Balli, Saroj slept at their room. Saroj caught her but Bebe saved her giving excuses. Swaran opened the main door but Balli called her from upstairs.
To know what happens next stay tuned to Swaran Ghar on ColorsTV/Voot app and this space.