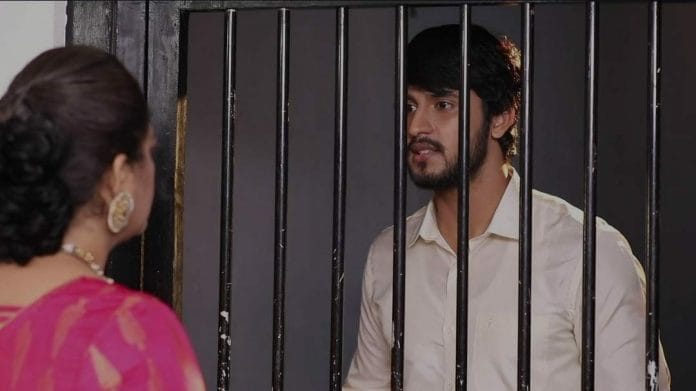 Tamizhum Saraswathiyum Upcoming Story, Spoilers, Latest Gossip, Future Story, Latest News and Upcoming Twist, on TellyExpress.com
Vijay Television's popular daily soap, Tamizhum Saraswathiyum, is gearing up for more drama with Tamizh tracing Arjun.
Previously, it was seen that Kodhai and Ragini were shattered after seeing Arjun's video. Kodhai and Adhi tried to instigate Kodhai against Arjun. Tamizh and Saraswathi told that it was someone's plan to stop Ragini and Arjun's wedding. They blamed Chandrakala which angered Vasundhara.
The latter defended her mother and argued with Tamizh. Tamizh and Saraswathi opposed when Natesan requested Chandrakala to agree to ask Adhi to marry Ragini to save her life. Vasundhara accused Saraswathi of having insecurity feeling so she didn't not want Ragini to Mary Adhi who was also rich.
She added that she heard Saraswathi telling the same to her mom which shocked Kodhai. Kodhai decided to get Ragini married to Adhi. Chandrakala also agreed. Adhi and Ragini sat on the wedding mandap. They performed the puja rituals before marriage while Tamizh tried to locate Arjun's whereabouts with police's help.
In today's episode, it will be seen that Tamizh finds Arjun's location with the help of the police. He reaches there along with the police team and stops Arjun and Sneha's marriage. Sneha confessed that Adhi is behind all this. Tamizh video calls Saraswathi immediately.
Tamizh shows Arjun to the family via the video call. Sneha admit doing everything following Adhi's instructions which shocks Kodhai and the family. Karthi slaps Adhi.
The latter admits in front of the police of kidnapping Arjun to marry Ragini who ditched him to save Chandrakala. The police arrests Adhi. Arjun marries Ragini. Adhi asks Chandrakala to ruin Kodhai family who ruined his happiness.
What will be Chandrakala new plan?
Stay tuned to this space for the latest update on your favorite Tamil show.