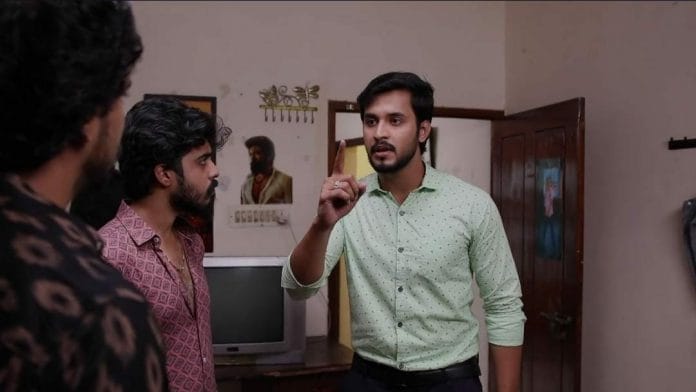 Tamizhum Saraswathiyum Upcoming Story, Spoilers, Latest Gossip, Future Story, Latest News and Upcoming Twist, on TellyExpress.com
Vijay Television's popular daily soap, Tamizhum Saraswathiyum, is gearing up for more drama with Adhi and Ragini's engagement approaching.
Previously, it was seen that Tamizh and Saraswthi went to their parents' house to celebrate Diwali. Saraswathi's family was happy to see them. Saraswathi questioned her grandmother about humiliating Madhu in front of her colleagues. Her grandmother admitted doing that after learning that Tamizh had come to her house.
Saraswathi asked her grandmother, who told her that Tamzh had gone to Madhu's house. Her grandmother thought of not mentioning Chandrakala's name to avoid any further confusion. So, she lied that someone whom she knew saw Tamizh going into Madhu's house and alerted her.
Saraswathi's dad returned to Tamizh to repay the money Tamizh borrowed him. On the other hand, a heartbroken Arjun didn't go to work. Ragini learned this when she called his friend.
Ragini asked to speak to Arjun, But Arjun refused to speak with Ragini. His friend said to Ragini that it was hard for Arjun to suddenly consider the girl whom he loves as his friend. Ragini felt bad for Arjun.
In today's episode, it will be seen that Chandrakala brings gifts for Vasundhara, Karthi and Kodhai's family on the occasion of Diwali. Just then, Tamizh and Saraswathi return from Saraswathi's parents' house. Chandrakala taunts Saraswathi's parents for not being able to present gifts to them.
Tamizh gives an apt reply by showing the 20 lakh cash cheque to return the money he borrowed from them. He also shows the ring that they gifted. Ragini shares her concern about Arjun with Adhi. The latter gets furious.
He meets Arjun and warns him not to contact Ragini hereafter and threatens Arjun, saying that the consequences will be worse if he disobeys. She reminds him that he can ruin Arjun using his mom's political connection.
Chandrakala tells about what she bought for Ragini for the engagement. Tamizh notifies that Ragini is upset. Chandrakala accuses Tamizh of creating unnecessary problems. However, Ragini says that she's fine when Kodhai questions her.
What will Tamizh and Saraswathi do to sort out Ragini's problem?
Stay tuned to this space for the latest update on your favorite Tamil show.