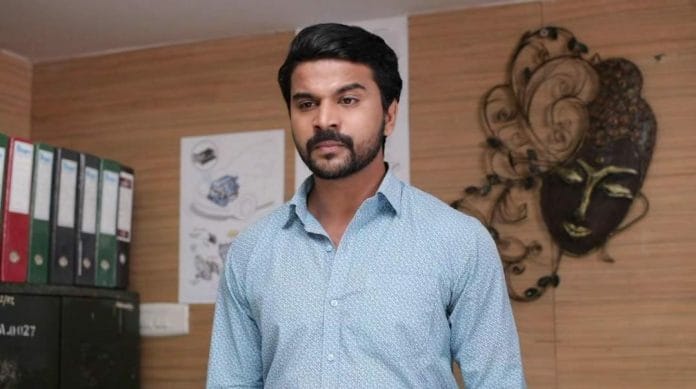 Tamizhum Saraswathiyum Upcoming Story, Spoilers, Latest Gossip, Future Story, Latest News and Upcoming Twist, on TellyExpress.com
Vijay Television's popular daily soap, Tamizhum Saraswathiyum, is gearing up for more drama with Arjun instigating Chandrakala through his mom to help Karthi to buy the company.
Previously, it was seen that Vasundhara, Arjun, Ragini and Arjun's family arrived at Chandrakala's house for lunch. Chandrakala hid her thirsty for vengeance on Ragini, Arjun and his family and pretended to be nice with them Arjun had come up with a plan to use Chandrakala to make Karthi buy the factory.
As instructed by Arjun, his mom told Chanadrakala about Karthi wishing to buy a factory, but Kodhai and Tamizh opposing Karthi's decision. She instigated Chandrakala to help Karthi financially to buy the factory.
Later Chandrakala met Karthi and offered to help him. In the house, Vasundhara got angry with Saraswathi when she didn't do the work she asked to do.
In today's episode, it's seen that Chandrakala apologizes to Karthi for her past mistakes and says that she can arrange 12 crores money for him to buy the company if he says. Karthi thinks that if he takes money from Chandrakala and buy the family, he will hurt Kodhai, Natesan and Tamizh's feelings.
He refuses to prove himself putting his family's happiness into the sake. So Karthi decides not to buy the factory. Arjun gets shocked and annoyed to hear Karthi. He meets the company owner and asks him to threaten Karthi to defame his family if he doesn't purchase the company.
The company owner obliges. In the house, Arjun's mom and sister try to instigate Vasundhara against Saraswathi using the incident that Saraswathi didn't do the work said by Vasundhara. The latter gives them an apt reply. She warns them not to speak a work against Saraswathi as she won't tolerate it. She defends Saraswathi in front of them.
What will happen next? Will Karthi fall ik Arjun's trap and buy the company?
Will Arjun be successful in his intention?
Stay tuned to this space for the latest update on your favorite Tamil show.