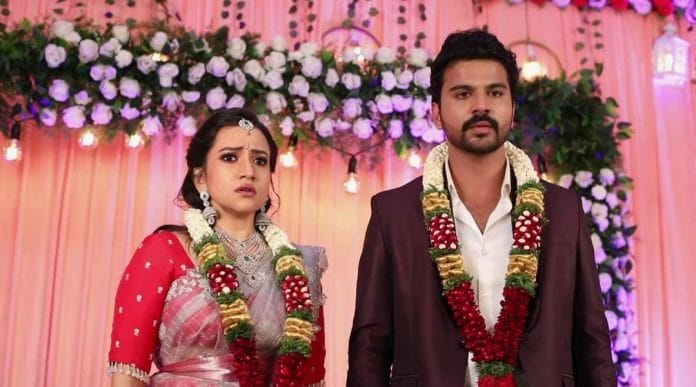 Tamizhum Saraswathiyum Upcoming Story, Spoilers, Latest Gossip, Future Story, Latest News and Upcoming Twist, on TellyExpress.com
Vijay Television's popular daily soap, Tamizhum Saraswathiyum, is gearing up for more drama with Chandrakala instigating Vasundhara against Saraswathi.
Previously, it was seen that Chandrakala phoned Adhi and to bring Vasundhara. Chandrakala deliberately engaged a talk with Tamizh and Saraswathi about Ragini wedding. She said that Tamizh and Saraswathi got successful in stopping Adhi and Ragini's wedding.
Tamizh and Saraswathi said thaRagini loves Arjun, but despite knowing this, Chandrakala had blackmailed Ragini emotionally and had forced her to marry Adhi.
Vasundhara arrived there and heard Saraswathi saying that they had stopped Adhi and Ragini wedding as they didn't want Chandrakala's family's another alliance to their family and would have done anything to prevent it.
Vasundhara was shocked to hear this. Later, Chandrakala instigated Vasundhara and Karthi that as Saraswathi hailed from a middle class family, she was insecure to lose her position ifn the family if Ragini also got married to a rich family, so she had deliberately stopped Adhi and Ragini's wedding and she brainwashed Tamizh for the same.
In today's episode, it will be seen that Adhi refuses to attend the Ragini and Arjun's pre wedding reception as he won't be able to bear his defeat to Arjun. Chandrakala assures Adhi that he will marry Ragini and she has a plan for that and arranged everything.
She convinces Adhi to get ready. In the wedding mandap, Saraswathi tries to talk to Vasundhara, but the latter speaks to her harshly. Kodhai and Natesan see this and adivise them. Later, Adhi is shocked when his ex-girl friend arrive at the pre wedding reception.
Is Arjun pretending to be nice with an hidden motive?
Stay tuned to this space for the latest update on your favorite Tamil show.