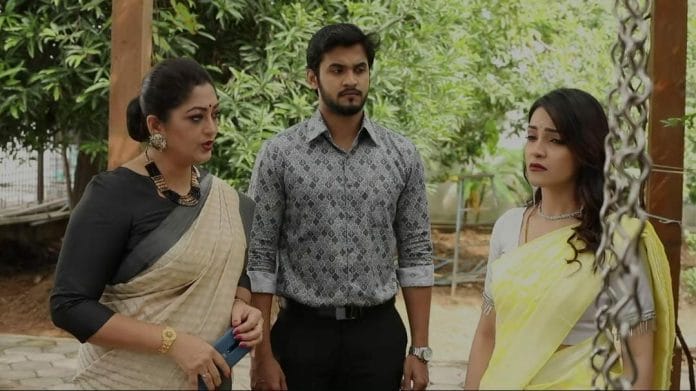 Tamizhum Saraswathiyum Upcoming Story, Spoilers, Latest Gossip, Future Story, Latest News and Upcoming Twist, on TellyExpress.com
Vijay Television's popular daily soap, Tamizhum Saraswathiyum, is gearing up for more drama with Chandrakala assuring Adhi to get Ragini married to him.
Previously, it was seen that Ragini and Arjun expressed their love for each other over the phone. They decided to thank Tamizh and Saraswathi who had helped to unite them. That Saraswathi arrived there. Seeing Ragini talking with Arjun on the call, Saraswathi teased Ragini. Later, Saraswathi told about this to Vasundhara, but the latter walked away ignoring her talk which surprised Saraswathi.
Chandrakala assured Adhi to stop Ragini and Arjun's wedding by creating some problem. The next day, Arjun's family arrived at Kothai's house for Arjun and Ragini's engagement. To everyone's surprise, Mallika and Adhi attended the function.
Mallika questioned Arjun's mother about their background and their wealth and try to insult them. Later Ragini and Arjun got engaged while Vasundhara felt bad to see Chandrakala and Adhi's upset face.
In today's episode, it will be seen that Chandrakala phones Adhi and to bring Vasundhara. Chandrakala deliberately engages a talk with Tamizh and Saraswathi about Ragini wedding. She says that Tamizh and Saraswathi got successful in stopping Adhi and Ragini's wedding.
Tamizh and Saraswathi say thaRagini loves Arjun, but despite knowing this, Chandrakala blackmailed Ragini emotionally and forced her to marry Adhi.
Vasundhara arrive there and hears Saraswathi saying that they stopped Adhi and Ragini wedding as they don't want Chandrakala's family's another alliance to their family and would have done anything to prevent it.
Vasundhara is shocked to hear this. Later, Chandrakala instigates Vasundhara and Karthi that as Saraswathi hailed from a middle class family, she is insecure to lose her position ifn the family if Ragini also get married to a rich family, so she deliberately stopped Adhi and Ragini's wedding and she brainwashed Tamizh for the same.
Will Vasundhara turn negative and will try to stop Ragini and Arjun's wedding?
Stay tuned to this space for the latest update on your favorite Tamil show.