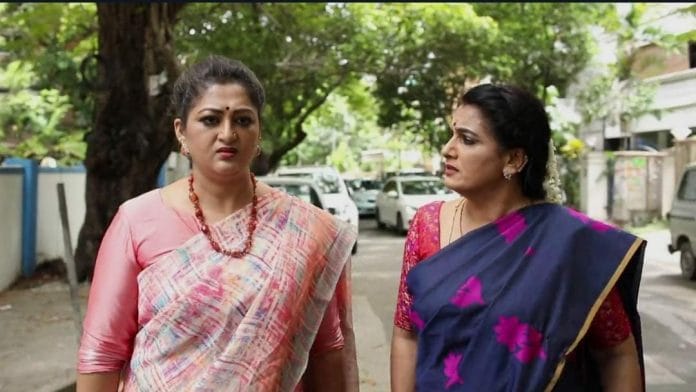 Tamizhum Saraswathiyum Upcoming Story, Spoilers, Latest Gossip, Future Story, Latest News and Upcoming Twist, on TellyExpress.com
Vijay Television's popular daily soap Tamizhum Saraswathiyum is all set for some interesting twists and turns in the story with Chandrakala planning to harm Tamizh.
Previously it was seen that Geetha taunted Tamizh and Saraswathi about having food sitting on the stairs. She told how Kodhai got insulted because of Tamizh and Saraswathi. She kept insulting Tamizh and Saraswathi with intention to pour oil in the fire. But Kodhai surprised her asking Tamizh and Saraswathi to sit on the lunch table and have food.
Tamizh and Saraswathi got overjoyed. They decided to start their married life since Kodhai accepted her. Geetha overheard when Tamizh discussed about the same to Namatchi on the call.
Geetha informed the same to Chandrakala. The latter decided to cause Tamizh accident to prevent Tamizh and Saraswathi union and to throw Saraswathi out of Kodai house.
In today's episode it will be seen that Natesen will thank Kodhai to accept Tamizh and Saraswathi upon his request and will express his joy over the same.
But Kodhai will shock him revealing that she didn't completely accept them. She will tell that she had to permit them to eat lunch with them when Geetha insulted them.
Kodai will say that she can't forgive them easily to deceive her, but at the same time couldn't let any outsider to know about their family problem and take advantage of it. Unaware of this Saraswathi and Tamizh will be elated that Kodhai finally accepted them and will be excited to start their married life.
Later Chandrakala and Geetha will follow Tamizh in a car on his way to the office to hit his bike. But their plan will fail and their car will hit the platform. Tamizh will notice them and will help them.
What will happen next? Will Tamizh and Saraswathi learn Chandrakala's evil intention? What will be Chandrakala's next move?
Stay tuned to this space for latest update of your favorite Tamil show.