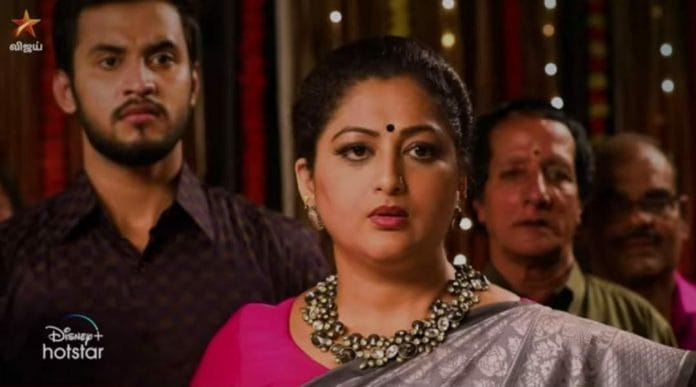 Tamizhum Saraswathiyum Upcoming Story, Spoilers, Latest Gossip, Future Story, Latest News and Upcoming Twist, on TellyExpress.com
Vijay Television's popular daily soap Tamizhum Saraswathiyum is gearing up for more drama with Saraswathi convincit Kodhai to attend Chandrakala's party.
Previously, it was seen that Chandrakala came to meet Kodhai with a new suggestion. As Kodhai and Natesan weren't in the house, Chandrakala told her suggestion in front of the rest of the family. She wanted to have a small get together only between their both families.
She invited Kodhai's whole family to her house for the same. After Kodhai and Natesan returned, Saraswathi told them about Chandrakala's idea and her invitation to her house.
Kodhai refused to attend the get together and asked Karthi-Vasundhara and Saraswathi-Tamizh to attend it. But Vasundhara became upset and refused to go. So Saraswathi convinced Kodhai to go. Vasundhara was elated when Saraswati told her that Kodhai had agreed to come to Chandrakala's house.
In today's episode, it will be seen that Kodhai and her family arrives at Chandrakala's house. They are shocked to find many guests there.
Natesan asks Chandrakala about the same to which Chandrakala says that she only invited her relatives of her closed circle. She will add that she also invited Kodhai's relative. Just then Geeta and her husband greet Kodhai.
The latter gets angry that Chandrakala didn't tell her about inviting her rekatives. However she decides to let it for Vasundhara's sake. Chandrakala fumes in anger seeing Saraswatho taking care of Saraswathi.
Chandrakala asks Saraswathi to stay away from Vasundhara since Saraswathi hasn't become a mother yet. Tamizh sees them talking and understands that Chandrakala hurt Saraswathi. He decides to stay in the kitchen with Saraswathi.
Vasundhara wishes that Kodhai and Natesan blesses her first. Then she gets adamant that Tamizh and Saraswathi should bless her. Chandrakala has to bring back Tamizh and Saraswathi.
What will happen next? What will be Chandrakala's new scheme?
Stay tuned to this space for the latest update on your favorite Tamil show.