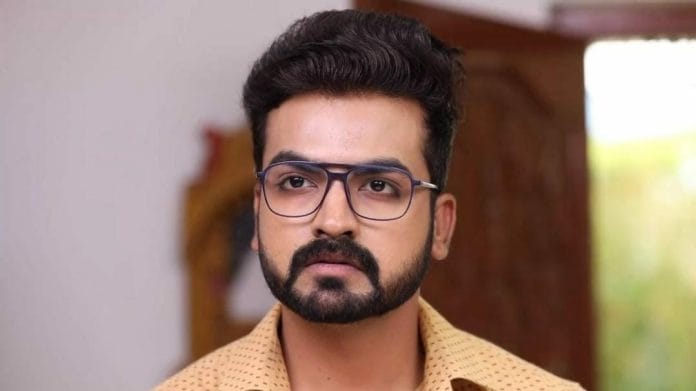 Tamizhum Saraswathiyum Upcoming Story, Spoilers, Latest Gossip, Future Story, Latest News and Upcoming Twist, on TellyExpress.com
Vijay Television's popular daily soap Tamizhum Saraswathiyum is gearing up for more drama with Tamizh going on hunger strike to show his support for Saraswathi and his disagreement with Kodhai's decision.
Previously it was seen that Saraswathi's friends praised Saraswathi's good and friendly nature. They said that Saraswathi had won their heart in short period of time and she was inspiring them to study. They also praised Kodhai to allow Saraswathi to study after her marriage.
A woman said that her in-laws allowed her to study seeing Kodhai. They asked her to resume the classes soon. Later Saraswathi shared about her friends visit with Tamizh over phone call and was surprised when Tamizh said that he was aware of this. Tamizh told her about meeting her professor and seeking his help.
Tamizh and Saraswathi got concerned for each other yet they decided to starve themselves till Kodhai changes her decision. Natesan visited Tamizh in the factory and told him about the pooja organized by Kodhai for his wellbeing. He asked Tamizh to come to the temple with Saraswathi in the evening.
Later Kodhai got delighted when the priest praised Saraswathi's horoscope and said that it only saved Tamizh from dangers.
In today's episode it will be seen that Tamizh and Saraswathi will refuse to have dinner continuing their starving strike against Kodhai's decision. To support Tamizh and Saraswathi, Vasundhara, Natesan and Ragini will also decide to not have food which will irk Kodhai and Karthi. The latter will ask Kodhai to not budge to their blackmailing.
Kodhai's heart will melt seeing her family's togetherness and will permit Saraswathi to resume her studies. All will get elated on hearing this except Karthi.
The next morning Kodhai will announce that Tamizh can also handle the factory management along with Karthi which will surprise all. All will get happy while Karthi will get upset yet he will nod ok for Kodhai's sake.
What will Karthi do now? Will Tamizh can convince Karthi?
Stay tuned to this space for latest update of your favorite Tamil show.