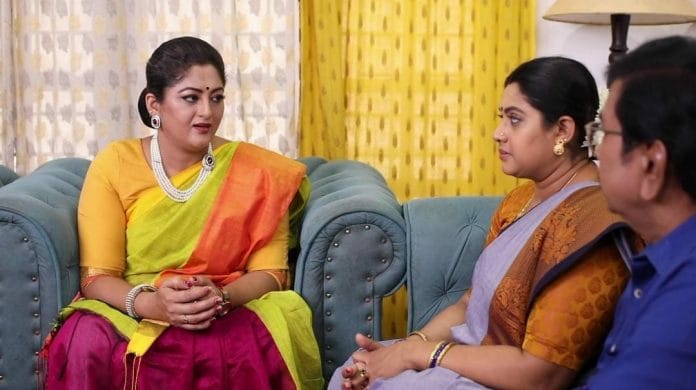 Tamizhum Saraswathiyum Upcoming Story, Spoilers, Latest Gossip, Future Story, Latest News and Upcoming Twist, on TellyExpress.com
Vijay Television's popular daily soap, Tamizhum Saraswathiyum, is gearing up for more drama with Adhi being successful in getting into Kodhai's good book by solving the employees' salary issue.
Previously, it was seen that Kodhai tried to talk to the workers to prevent them from doing the strike. But she failed to convince the workers. As the workers started to protest, an employee informed Karthi that three crores are credited in the account. They were all elated and wondered who had helped them.
Karthi checked bank details and notified Kodhai that Adhi had credited that amount. Just then, Chandrakala and Adhi arrived there. Chandrakala said that Adhi had managed to arrange the three crores within two hours. Kodhai and the family thanked Adhi and praised him.
Adhi gave a victory smile, looking at Arjun. Chandrakala said to Kodhai that she could fulfill Adhi's wish if she wanted. She said that they would talk about it after going home. She started to scold the workers about going against Kodhai. But the latter stopped Chandrakala as she couldn't tolerate anyone scolding her workers in front of her.
In today's episode, it will be seen that Arjun makes a clever move. He phones Ragini and tells about Adhi helping Ragini's family by giving three crores to solve the employees' salary issues. He praises Adhi to Ragini.
The latter is impressed by Arjun's action. She thinks that Arjun is innocent and doesn't have an ego, so he praises Adhi, who is a competitor to him in the love race.
Ragini decides to confess her love for Arjun. She messages Arjun asking him to meet her in the evening. An overjoyed Arjun phones Adhi and tells him that Ragini is going to propose to him. A shocked Adhi notifies the same to Chandrakala. The latter misleads Kodhai about Ragini and Adhi's relationship and tries to fix Ragini and Adhi's alliance.
What will Arjun do now?
Will Kodhai agree to Ragini and Adhi's wedding proposal?
Stay tuned to this space for the latest update on your favorite Tamil show.