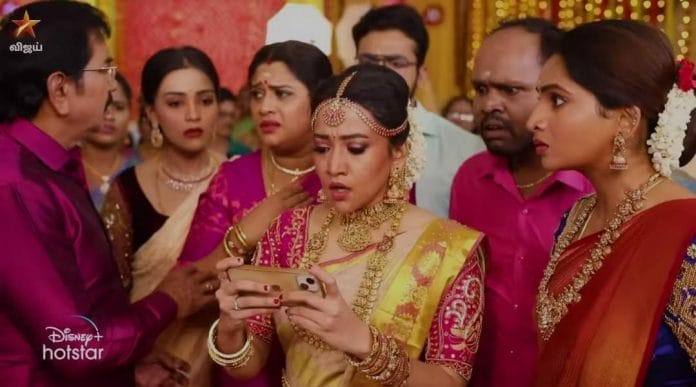 Tamizhum Saraswathiyum Upcoming Story, Spoilers, Latest Gossip, Future Story, Latest News and Upcoming Twist, on TellyExpress.com
Vijay Television's popular daily soap, Tamizhum Saraswathiyum, is gearing up for more drama with Tamizh foiling Chandrakala's plan to stop Arjun and Ragini's wedding.
Previously, it was seen that the girl claims that Arjun ditched her for Ragini who is from a wealthy family. Arjun admits knowing the girl, but denies her accusations. The girl shows her and Arjun's photos on her phone. Kodhai and everyone are shocked to see this.
Chandrakala instigates Kodhai and Natesan against Arjun. However Tamizh foils Chandrakala's plan by bringing the manager of the company where Arjun worked previously and proves Arjun's innocence. Adhi gets vexed and decides to leave the wedding venue. But Chandrakala stops him.
Chandrakala says that she underestimated Tamizh who is uneducated. She says that she has a plan B and she will executed using Ram who is one of the worker of Kodhai industry, but works for Chandrakala. The latter phones Ram and tells her plan.
In today's episode, it will be seen that Chandrakala's men catch Arjun's friend. They force him to phone Arjun and asks him to come outside the mandap. Arjun obliges. They kidnap Arjun as soon he comes out. The morning, everyone is busy in wedding preparation. The priest asks to bring the groom.
Everyone gets shocked not to find Arjun in his room. They search for Arjun in the whole mandap and don't find him. Kodhai akd the family get worried about where Arjun has gone. Meanwhile Chandrakala's men threaten Arjun to kill his friend and record a video.
Ragini receives a shocking video of Arjun in which Arjun says of going to marry the girl who accused him of ditching her.
Will Chandrakala's plan work? Adhi and Ragini get married?
Stay tuned to this space for the latest update on your favorite Tamil show.