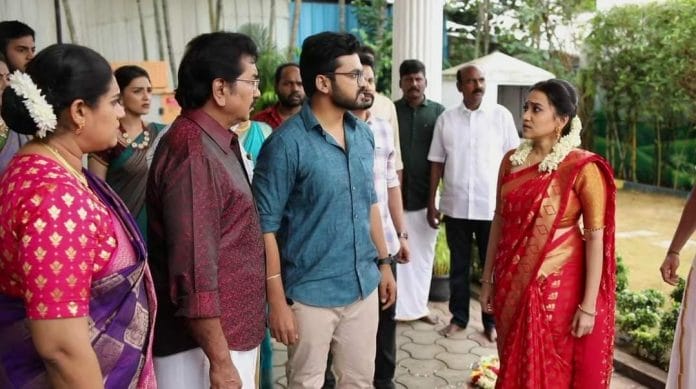 Tamizhum Saraswathiyum Upcoming Story, Spoilers, Latest Gossip, Future Story, Latest News and Upcoming Twist, on TellyExpress.com
Vijay Television's popular daily soap, Tamizhum Saraswathiyum, is gearing up for more drama with Tamizh announcing the family about Ragini and Arjun getting married.
Previously, it was seen that Saraswathi explained to Kodhai and Natesan that a heartbroken Arjun had consumed poison and knowing this Ragini had left the house to save him. She added hat Tamizh had learned that Ragini took Arjun to an hospital and was checking in all the nearby hospitals.
Kodhai was shocked to know this and was worried about what to answer Chandrakala and the guests if they would ask about Ragini. Saraswathi assured Kodhai and Natesan that Tamizh would find Ragini and would bring her home.
On the other hand, Tamizh and Namatchi enquired the auto driver who had dropped off Ragini and Arjun at the temple and were shocked to know that Ragini and Arjun had planned to get married. Tamizh rushed to that temple and learned that Ragini and Arjun left and concluded they got married.
Here, Chandrakala went to bring Ragini and got furious not finding her in the room. Chandrakala asked Kodhai where Ragini was. Kodhai cried unable to answer her. Just then Tamizh arrived there and told that it seemed that Ragini and Arjun got married in the temple. Kodhai was shattered to hear this while everyone stood stunned.
In today's episode, it will be seen that Chandrakala and the guests taunt Kodhai about Ragini eloping with Arjun and marrying him. They question Kodhai's bringing. Kodhai bursts in tears unable to answer them. Just then, Ragini and Arjun arrive them. A furious Karthi beats Arjun.
Tamizh stops him. Everyone scolds Ragini and blames Arjun for brainwashing Ragini and marrying her. Ragini reveals that they didn't get married as Arjun refuses to marry her without her parents consent and hurting her parents. Tamizh and Saraswathi convince Kodhai to accept for Arjun and Ragini's marriage.
Stay tuned to this space for the latest update on your favorite Tamil show.