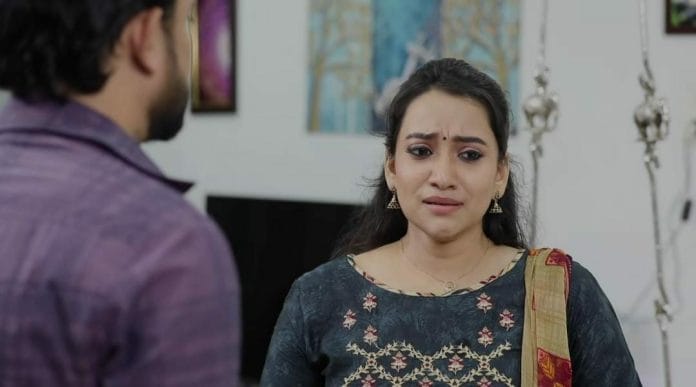 Tamizhum Saraswathiyum Upcoming Story, Spoilers, Latest Gossip, Future Story, Latest News and Upcoming Twist, on TellyExpress.com
Vijay Television's popular daily soap, Tamizhum Saraswathiyum, is gearing up for more drama with Tamizh disclosing to the family about Ragini and Arjun's love affair, but Ragini denied loving Arjun when the family confronted her.
Previously, it was seen that Tamizh heard Ragini's love confession to Arjun. He refused to let Ragini to spoil her and Arjun's life by marrying Adhi for the family's reputation's sake. Tamizh promised to get them married. But he wanted to stop the engagement between Adhi and Ragini first.
Ragini thanked Tamizh and hugged him. Tamizh visited Chandrakala and Adhi. Tamizh told them about Arjun and Ragini's relationship and tried to convince them to cancel Adhi and Ragini's engagement.
Chandrakala revealed that they already knew this, which shocked Tamizh. She said that Ragini was only having a crush on Arjun and she would soon forget him. Thus, she refused to call off the engagement. Adhi also agreed with Chandrakala.
Tamizh understood that Chandrakala's real intention was to control Kodhai and her family by making Ragini her in-laws. He said that he would not let this happen. Tamizh and Saraswathi told the family that Ragini didn't want to marry Adhi as Ragini and Arjun love each other, which shocked the family.
Chandrakala phoned Kodhai and instigated her against Tamizh by telling bout his visit to her house to stop the Ragini and Adhi's wedding. The family questioned Ragini about what Tamizh said. Ragini lied that she doesn't love Arjun. He was just her friend.
In today's episode, it will be seen that Tamizh is shocked when Ragini denies what Tamizh said. Tamizh and Saraswathi urge Ragini to tell the truth. Chandrakala says to Kodhai over the phone call that Tamizh and Saraswathi don't like her, so they try to stop the wedding by lying.
As Ragini doesn't tell the truth, Tamizh and Saraswathi feel insulted in front of the family. Later Tamizh confronts Ragini about changing her words at the end and humiliating him in front of the family. Ragini breaks down and reveals how Chandrakala emotionally blackmailed not to reveal her and Arjun's love affair.
How will Tamizh and Saraswathi make believe the family that Ragini loves Arjun and stop Ragini and Adhi's wedding?
Stay tuned to this space for the latest update on your favorite Tamil show.