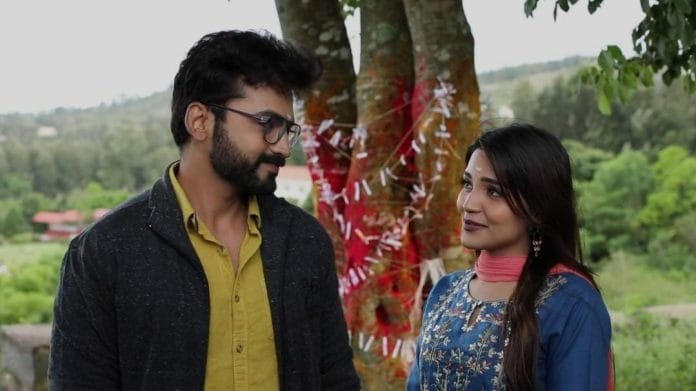 Tamizhum Saraswathiyum Upcoming Story, Spoilers, Latest Gossip, Future Story, Latest News and Upcoming Twist, on TellyExpress.com
Vijay Television's popular daily soap Tamizhum Saraswathiyum is all set for some interesting twists and turns in the story with Vasundhara and Karthi beginning their married life.
Previously it was seen that Natesan called Tamizh and enquired about the development of Vasundhara and Karthi's relationship.
Tamizh said that the problem still persisted in their relationship which upseted Natesan. Tamizh assured Natesan that everything would be fine. Later the local thugs troubled again Saraswathi, Vasundhara, Tamizh and Karthi. But they ran away when police arrived there.
Later they all four went into the forest for trekking. As the phone will not have network to use internet to find the route, Tamizh went to get help from a nearby estate. The thugs came again and started to trouble saraswathi, Vasundhara and Karthi. They misbehaved with Sarawathi.
Karthi got furious and hit a thug that created a violent fight between the thugs and Karthi. The thugs tried to stab Karthi. Saraswathi saved karthi by throwing a wood stick. The thugs started hitting Saraswathi, Vasundhara and karthi.
Tamizh came and saved them all. He beat the thugs. Police arrived there and arrested the thugs. Karthi realized his mistakes and apologized to Saraswathi and Tamizh.
In today's episode it will be seen that Saraswathi and Tamizh will get elated learning that Vasundhara and Karthi have reconciled and finally started their married life.
Later they all will return to Chennai. On their way Vasundhara Saraswathi will have a talk over unpleasant happenings during their honeymoon.
Vasundhara will want to tell Kodhai and Natesan about the thugs attacking them as that changed Karthik's heart, but Saraswathi will request to not tell this. Later Kodhai and Natesan will get elated knowing that Vasundhara and karthi started their married life.
What will happen next? What new twist waits for the audience in the upcoming story?
Stay tuned to this space for latest update of your favorite Tamil show.