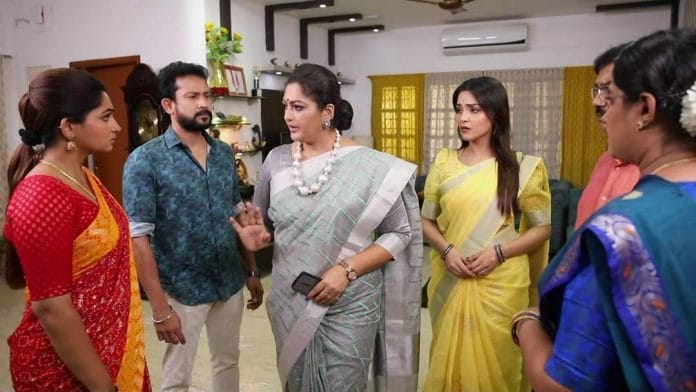 Tamizhum Saraswathiyum Upcoming Story, Spoilers, Latest Gossip, Future Story, Latest News and Upcoming Twist, on TellyExpress.com
Vijay Television's popular daily soap Tamizhum Saraswathiyum is gearing up for more drama with Chandrakala accusing Saraswathi.
Previously, it was seen that Saraswathi and Vasundhara visited the temple. Saraswathi made Vasundhara sit and completed the rituals. Karthi phoned Vasundhara to know how she's doing.
Vasundhara lied that she was at home. While speaking to Karthi, Vasundhara slipped and fell. She became unconscious. Saraswathi immediately rushed Vasundhara to the hospital. Hearing Vasundhara's scream, Karthi panicked. He told it to Tamizh.
The latter phoned Saraswathi and learns about what happened. They rushed to the hospital. Saraswathi was blamed for Vasundhara's conditions and has to bear Karthi, Kodhai's scolding.
Chandrakala accused Saraswathi of trying to kill Vasundhara's unborn child out of jealousy. Tamizh defended Saraswathi.
In today's episode, it will be seen that Vasundhara feels bad after learning about everyone lashing out at Saraswathi, accusing her of intentionally pushing her down. Vasundhara wants to tell everyone that she urged Saraswathi to take her to the temple.
But Saraswathi forbids Vasundhara from telling the truth to anyone as Karthi could get angry at Vasundhara for disobeying him. After Vasundhara retunrs home, Chandrakala urges Kodhai to send Vasundhara to her house as Vasundhara isn't safe there with Saraswathi around her.
Vasundhara tries to tell the truth when Karthi and Vasundhara rebukes Saraswathi. But Saraswathi stops Vasundhara. Saraswathi assures Chandrakala not to come near Vasundhara.
Chandrakala agrees for Vasundhara to stay in Kodhai's house. Later Tamizh questions Saraswathi about taking Vasundhara to the temple. Saraswathi tells Tamizh the truth.
Will Kodhai forgive Saraswathi? Will Vasundhara tell the truth to the family?
Stay tuned to this space for the latest update on your favorite Tamil show.