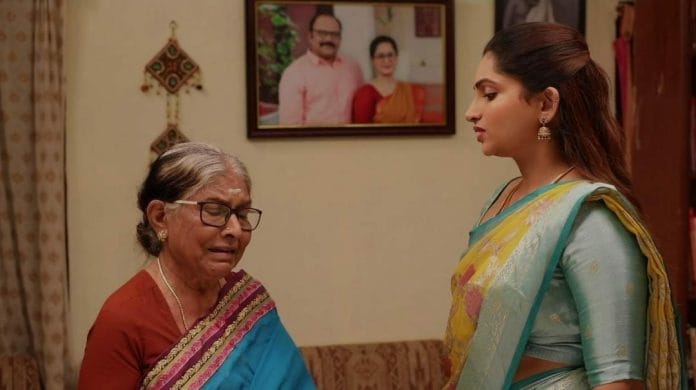 Tamizhum Saraswathiyum Upcoming Story, Spoilers, Latest Gossip, Future Story, Latest News and Upcoming Twist, on TellyExpress.com
Vijay Television's popular daily soap, Tamizhum Saraswathiyum, is gearing up for more drama with heartbroken Arjun drowning his sorrow in alcohol
Previously, it was seen that Saraswathi's father phones Kodhai and requests her to send Tamizh and Saraswathi to their house for their first Diwali's celebration. Kodhai agrees. Saraswathi is overjoyed to hear this. On the other hand, a heart broken Arjun is drowning his sorrow in alcohol. His friend is shocked to see find him in drunken condition.
He makes a video call to Ragini and shows Arjun lying on the floor drunk and lamenting about Ragini breaking his heart. Ragini is shocked to see this. Arjun's friend lashes out at Ragini for choosing her family over Arjun after confessing her love to him. Ragini feels guilty and breaks down in tears.
Saraswathi and Tamizh excitedly get ready to leave for Saraswathi's parents' house. However they are worried about Ragini and wonder what to do. Saraswathi and Tamizh take leave from the family.
Saraswathi gets happy tears when Kodhai and Natesan give the clothes they bought for Saraswathi parents. Ragini meets Arjun and tries to convince him to move on in his life forgetting her.
In today's episode, it will be seen that Tamizh and Saraswthi go to their parents' house to celebrate Diwali. Saraswathi's family is happy to see them. Saraswathi questions her grandmother about humiliating Madhu in front of her colleagues.
Her grandmother admits doing that after learning that Tamizh went to her house. Saraswathi asks her grandmother who told her that Tamzh had gone to Madhu's house. Her grandmother thinks of not mentioning Chandrakala's name to avoid any further confused.
So she lies that someone whom she knew saw Tamizh going into Madhu's house and alerted her. Saraswathi's dad returns Tamizh to repay the money Tamizh borrowed him. On the other hand, a heartbroken Arjun doesn't go to work. Raging leans thus while calling his friend.
Raging asks to speak to Arjun, But Arjun refuses. His friend says that it's hard for Arjun to suddenly consider the girl whom he loves as friend. Raging feeds bad for Arjun.
What Tamizh and Saraswathi do to sort out Ragini's problem?
Stay tuned to this space for the latest update on your favorite Tamil show.