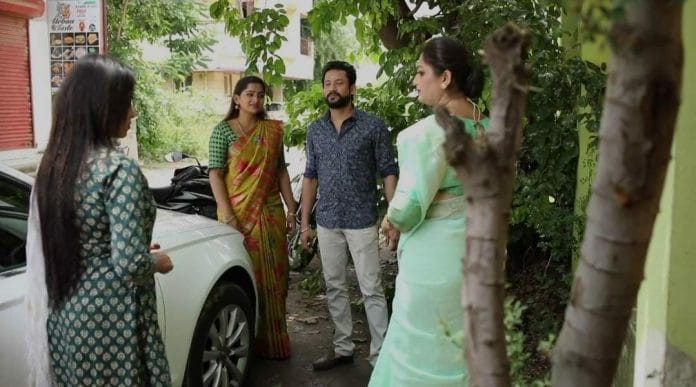 Tamizhum Saraswathiyum Upcoming Story, Spoilers, Latest Gossip, Future Story, Latest News and Upcoming Twist, on TellyExpress.com
Vijay Television's popular daily soap, Tamizhum Saraswathiyum, is gearing up for more drama with Saraswathi exposing Madhu's lie in front of the family.
Previously, it was seen that the family asked Saraswathi if she had found any evidence to prove Tamizh's innocence. Saraswathi was about to explain. Just then Madhu, her parents and Chandrakala entered the house.
Geeta showed a nuptial chain and demanded Tamizh to marry Madhu right now. Saraswathi called someone to prove Madhu's lie. Vasundhara's gynecologist arrived there. She revealed that Madhu had some medical complications and she was getting treated by her. She showed Madhu's reports.
Ragini checked the reports and confirmed what doctor had said. She then checked the date in Madhu's abortion report and said that Madhu had visited this doctor even one day before fake abortion. A furious Kodhai slapped Madhu multiple times asking why she had lied. Madhu admitted that she had lied and said that she did this to take revenge on Saraswathi.
In today's episode, it will be seen that Arjun and gift Ragini on her birthday. Ragini gets impressed with Arjun's surprise birthday celebration in the restaurant. Saraswathi and Tamizh visit the temple. Tamizh expresses his gratitude to Saraswathi for trusting him when even him was convinced that he did the mistake.
Saraswathi praises Tamizh's golden heart and says that Tamizh can never do anything wrong. On their way back to home, Tamizh and Saraswathi spot Madhu with Chandrakala. They understand Chandrakala instigated Madhu. confront them. Tamizh ans Saraswathi mock Chandrakala for stooping so low to take revenge on him.
Will Chandrakala's truth also get exposed? Will Saraswathi and Tamizh expose Chandrakala?
Stay tuned to this space for the latest update on your favorite Tamil show.