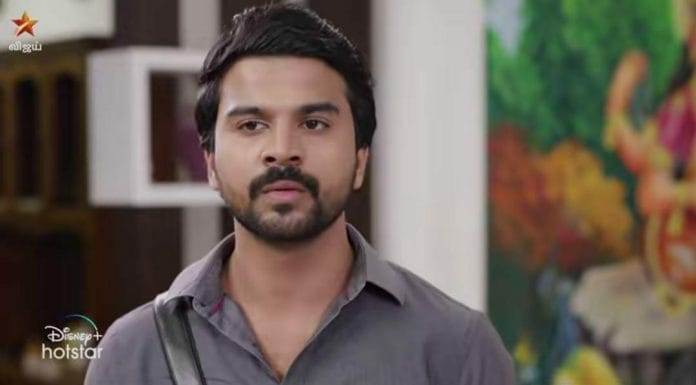 Tamizhum Saraswathiyum Upcoming Story, Spoilers, Latest Gossip, Future Story, Latest News and Upcoming Twist, on TellyExpress.com
Vijay Television's popular daily soap, Tamizhum Saraswathiyum, is gearing up for more drama with Kodhai giving a cold shoulder to Arjun.
Previously, it was seen that while having dinner as family, Arjun tries to act nice. But Kodhai gives him a cold shoulder which surprises Arjun, his family and Ragini. Arjun suggests Kodhai taking ayurvedic tablets which is recommended by his friend. But Kodhai refuses.
However, Arjun insists. Ragini also supports him and insists Kodhai, but she stays firm in her decision. Karthi tells Kodhai about a company meeting to which Karthi and Tamizh are going the next day.
Arjun decides to accompany them. But Kodhai asks Arjun to stay in the office look after the office work. Kodhai gets furious when Ragini speaks against Kodhai's decision, supporting Arjun.
In today's episode, it's seen that Arjun somehow understands that the commission he got from the company owner is reason for Kodhai changed behavior and cleverly turns the table. He gives the 80 lakh check to to Kodhai and Natesan.
He says that the company owner offered commission and he accepted to use it for the company's improvement. He didn't tell this to them as he didn't get the promised amount and had to negotiate it with him.
Kodhai and Natesan believe Arjun and get happy while Tamizh and Saraswathi are shocked. Later, Tamizh and Saraswathi share with Kodhai and Natesan about their suspicion regarding Arjun, but they don't believe them.
However, Kodhai says that she will keep in kind what they say, but she can't doubt Arjun only based on their assumptions. Tamizh and Saraswathi grow worried about Arjun's next plotting.
What will happen next? Will Tamizh and Saraswathi get opportunity to expose Arjun?
Stay tuned to this space for the latest update on your favorite Tamil show.