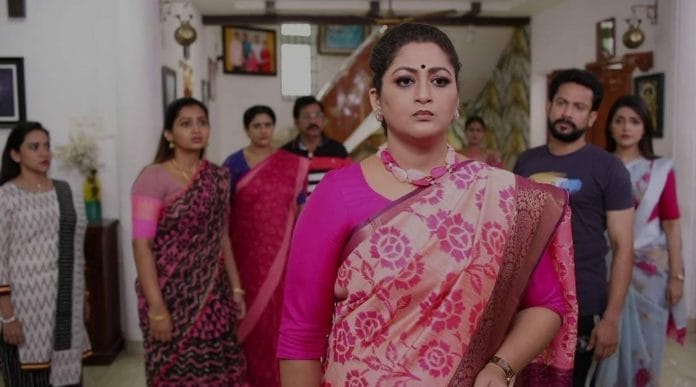 Tamizhum Saraswathiyum Upcoming Story, Spoilers, Latest Gossip, Future Story, Latest News and Upcoming Twist, on TellyExpress.com
Vijay Television's popular daily soap Tamizhum Saraswathiyum is gearing up for more drama with Chandrakala accusing Saraswathi.
Previously, it was seen that Vasundhara felt bad after learning about everyone lashing out at Saraswathi, accusing her of intentionally pushing her down. Vasundhara wanted to tell everyone that she urged Saraswathi to take her to the temple. But Saraswathi forbade Vasundhara from telling the truth to anyone as Karthi could get angry at Vasundhara for disobeying him.
After Vasundhara retuned home, Chandrakala urged Kodhai to send Vasundhara to her house as Vasundhara wasn't safe there with Saraswathi around her. Vasundhara tried to tell the truth when Karthi and Vasundhara rebuked Saraswathi. But Saraswathi stopped Vasundhara.
Saraswathi assured Chandrakala not to come near Vasundhara. Chandrakala agreed for Vasundhara to stay in Kodhai's house. Later Tamizh questioned Saraswathi about taking Vasundhara to the temple. Saraswathi told Tamizh the truth.
In today's episode, it will be seen that Saraswati missunderstands that Vasundhara in the bathroom and informs that she is going to mop the steps. Karthi sees Saraswathi mopping the steps and starts to shout at her he accusing her of wanting to make vasundhara fall once again. Just then the family members arrived there.
Karthi complained to them that saraswathi intentionally mopping the floor to make vasundhara fall. Just then Vasundhara came down and Karthi panicked and runs to her. He slipped and fall on his way.
Just then Chandrakala arrived there. She learned what had happened. She starts to rebuke Saraswathi. She accuses Saraswati of being jealous of Vasundhara.
Vasundhara has enough and takes a stand for saraswathi. She tells that she forced Saraswati to take her to the temple. Tamizh says that he was aware of the truth and demands Chandrakala to apologize to Saraswathi.
Will Chandrakala apologize to Saraswathi?
Stay tuned to this space for the latest update on your favorite Tamil show.