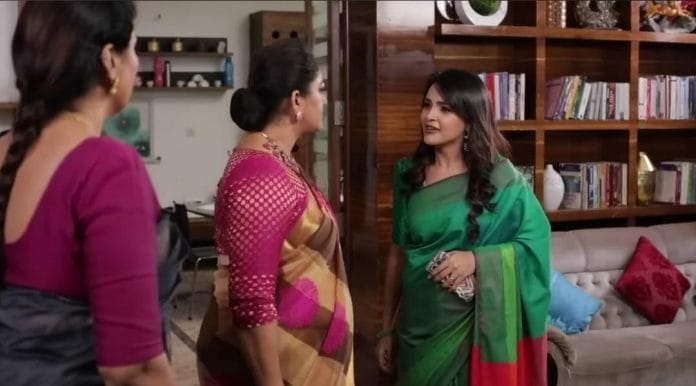 Tamizhum Saraswathiyum Upcoming Story, Spoilers, Latest Gossip, Future Story, Latest News and Upcoming Twist, on TellyExpress.com
Vijay Television's popular daily soap, Tamizhum Saraswathiyum, is gearing up for more drama with Tamizh trying to expose Chandrakala in front of Vasundhara.
Previously, it was seen that Tamizh and Namatchi learned about Vasundhara insulting Saraswathi. They tried to talk sense into Vasundhara, but in vain. Vasundhara refused to believe Tamizh when he revealed the evil intention of Vasundhara. In order to expose Chandrakala, Tamizh convinced Vasundhara and took her to Chandrakala's house.
He asked Vasundhara to stand outside the house and to overhear their conversation to know her mom's true colors. On knowing about Tamizg's plan, Chandrakala played smartly and turned the table. Vasundhara's anger on Saraswathi and Tamizh increased and she lashed out at Tamizh.
Later, Tamizh told Saraswathi and Namatchi what had happened in Chandrakala's house. Saraswathi was determined to expose Chandrakala at any cost and hatched a plan for the same.
In today's episode, it's seen that after Vasundhara leaves, Geeta visits Chandrakala. In front of Geeta, Chandrakala expresses her joy about Vasundhara and Saraswathi's rift.
She also reveals her intention to dominate Kodhai by getting Ragini married to Aadhi which was failed by Saraswathi and to separate Karthi from his family by helping him to buy the factory.
Vasundhara watches this live through the video call with Geeta. A FB is shown. Tamizh reveals to Geeta that Chandrakala provoked Madhu to accuse him falsely in order to separate him and Saraswathi. He seeks Geeta's help to expose Chandrakala's truth.
Geeta agrees. FB ends. Vasundhara is shocked to see her mom's real colors. She confronts her mom and lashes out at her. She cuts all ties with her mom.
Stay tuned to this space for the latest update on your favorite Tamil show.