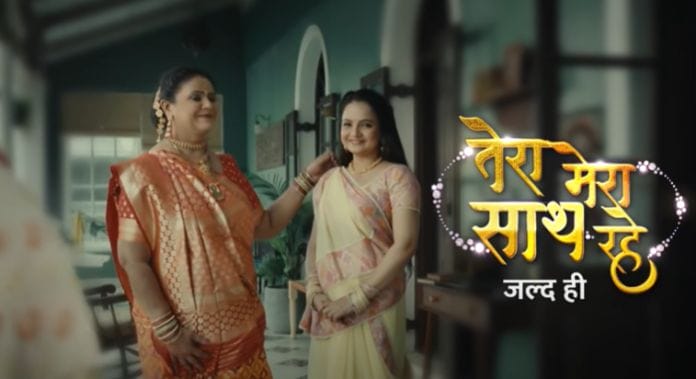 Tera Mera Saath Rahe 11th May 2022 Written Update on TellyExpress.com
The episode starts with Mithila lights up the Diya and thanks God for returning them their happiness back. Ashi takes a deep breath and when Chirag questions her she says that she is relieved that finally they returned to their life so let her experience it. Saksham and Gopika smiles. Chirag tells that they can keep this luggage to themselves it will remind them the life experience in the chawl also their victory.
Rajjo and Jigar comes there with the luggage in their hand. Rajjo apologises to Mithila and family members for hurting them so much and says that she is ashamed about the way she behaved with them. Mithila tells Rajjo that they all make mistakes and they all get punished for their deeds so there is no need of her to apologise to them but now they have to forget and move on from their life and blesses her.
Jigar calls Mithila as enemy grandmother and apologises to her for his behavior. Mithila says Jigar's punishment is that from now on he has to call her as his friend grandmother to which Jigar obliges and makes everyone happy. Saksham tells that everything is back to normal except one thing. Gopika says that its Keshav who is missing. Munna and Subhadra comes there and they bring Keshav with them shocking and surprising everyone. Mina hugs him and asks how he get released from the jail. Keshav says that Subhadra took back the case against him. Everyone gets happy.
Keshav tells that eventhough he is returned home he knows that he did a horrible mistake which affected Subhadra and family so seeks her forgiveness. Subhadra forgives Keshav which makes everyone happy. Mithila says if Subhadra forgave him then who are they to stay upset with them and welcomes him home. She then asks Saksham to greet him father. Saksham and Keshav hug each other. Gopika goes and hold Keshav's hand and says that they should forget about the past and move on from it also think about their future. Keshav gets emotional and nods his head.
Both Saksham and Gopika takes his blessings. Munna and family decides to leave. Munna says that he is happily going back to his house knowing that her sister is happy with the Modi's and the love and care the Modi's have for Gopika is making him happy. He wants nothing more than this. Mithila stops him and tells him that after so long Gopika able to get back to her family members also they all are family so why can't they stay with them.
Munna refuses. Saksham agrees with Mithila and pleads Munna to stay with them in the Modi Bhawan but Munna refuses and decides to leave but Gopika stops Munna and asks him is he really going to leave his sister just like that and asks him to stay with them. Munna agrees saying that he will never go against his sister Gopika's wish making everyone happy. Mithila goes to the temple and prays God to protect the happiness of this family and leaves the family. The wind blow off the diya after Mithila leaves the place.
Later Munna tells Saksham that he dont have any knowledge related to diamond so he dont think it's a good idea of them to involve him in the business. Saksham assures him that he will learn but Munna suggests that he is happy with the job he does before. Saksham threatens to tell Gopika but Munna stops him saying that he don't want to hear any lecture from her.
Chirag comes there and asks all three of them to go with him to the Store room where the mango box is shaking. They all gets confused so goes to the store room. Munna Saksham and Keshav gets shocked seeing what Chirag told is indeed true. They all discuss who is going to see what is inside the box. Finally they asks Saksham to go and check. Saksham goes to the box and finds the letter in it. He opens the letter gets shocked.
Gopika Ashi and Rajjo arranges the dinner table. Gopika decides to call everyone but Rajjo calls everyone from the dining room itself. Everyone comes there. They all asks one another to sit on the chair when they see the number of chair is not enough for all of them to sit. Gopika tries to get their attention but they all busy themselves asking the other person to have the seat. Jigar helps Gopika by making the family members stay on their place. Gopika and Rajjo brings extra chairs. They all sits together and have food. Gopika gets emotional seeing it. Munna informs the Modi's about his decision to send Jigar to boarding school. Jigar also shows interest and gets best wishes from the family members.
Gopika leaves the place getting emotional. Saksham follows her and asks the reason behind leaving the place. Gopika says she is so happy seeing both her family members are together happy like this. But she is worried something bad might happen. Saksham assures Gopika that nothing such will happen also she is their protector. Gopika hugs Saksham.
Precap: Keshav asks Saksham what is in that letter reading it his face color drained. Saksham reads that whatever inside the box is belongs to one of them. A little girl comes out of the box shocking and confusing Saksham and other's.
Click to read