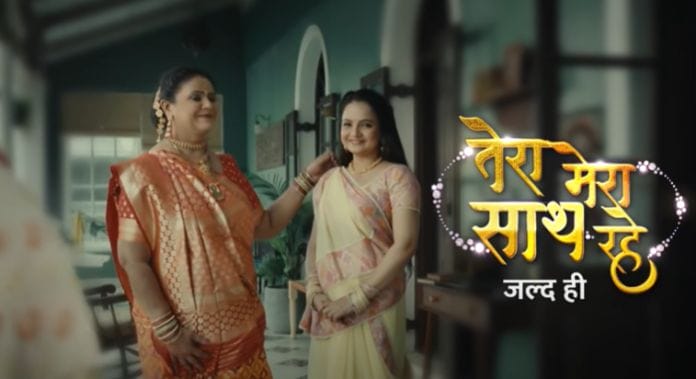 Tera Mera Saath Rahe 25th May 2022 Written Update on TellyExpress.com
The episode starts with Mithila is with Kesari. Kesari asks Mithila to sit or else she will get a leg pain. Mithila thinks Kesari is sweet so she can't able to get upset or angry with her. She sits beside Kesari and tells her that she is asking her questions for which she is not giving her answers and asks her to tell who is her mother and how can she can meet her. Kesari tells that its not easy to meet her mother. She also says that but when her mother decides to meet someone she will meet her though. She also adds that her mother comes to meet her two times which surprises Mithila.
Mithila asks her is she telling the truth. Kesari says yes and tells it's her mother because of her only the other say the oven burst and thr smoke filled the room and she bring her out of the room so that everyone can see her. Mithila tells Kesari the stunt which her mother pulled the other day could have killed someone. Kesari gets shocked. Her mother who hears everything assures her that she will never do such things so Kesari tells Mithila that her mother is a good person so she will never kill anyone. She also says that her mother can able to see and hear everything. Mithila realises that Kesari's mother is listening to their conversation so tells Kesari to tell her mother that she is challenging her to come and meet her in person.
Kesari's mother asks Kesari to tell Mithila she will be there within thirty minutes. Kesari gets happy and informs the same to Mithila. Ashi heats up a knife and hold Chirag's hand. She asks him to swear on her that he is not Kesari's father or else she will punish him. Chirag pleads Ashi to believe his words also asks her not to watch serials which lead her to think like this. He then frees himself from Ashi's hand and tries to run away from there but Ashi follows him. Minal calls the lawyer and tells him that she want divorce that too the same day itself. Keshav pleads Minal to believe him also tells Minal that he loves her so much.
Minal refuses to listen to him and says that she wants alumni also she is will ger her children's custody and won't let him meet them. Keshav tells her to take anything she wants but pleads her not to to divorce him. Ashi and Chirag comes to the living room too. Mithila brings Kesari to the living room. Saksham follows Gopika to the living room and pleads her to believe his words. Rajjo brings a suitcase to the living room. Mithila asks Rajjo why she is planning to leave the house when it's not her fault. Rajjo says who said she is leaving the house. Gopika asks then who is leaving the house.
Rajjo remains silent. They all gets shocked seeing the movement inside the suitcase. Chirag opens and gets shocked seeing Munna inside. Rajjo tells her plan to throw Munna away for betraying her. Ashi agrees with Rajjo's plan. Minal tells but if they does then they will go and live with Kesari's mother happily. Mithila asks all of them to shut their mouth. They all obliges.
Mithila tells the family members just because one person made a mistake doesn't mean everyone in the family has to suffer and they have to find out who is a real father of Kesari. Ashi asks but how could they find out. Mithila tells that Kesari's mother will tell them the truth. Gopika asks her is she talked to Kesari's mother. Mithila says no but Kesari's mothet informed her through Kesari that she will be here in thirty minutes to meet her in person. Saksham tells Mithila that Kesari's mother is a liar so she wont fulfill this promise.
Kesari gets angry so she goes to him and calls him papa but Saksham warns her not to call him papa because he is not her father. Kesari calls him uncle and says that her mother will fulfill the promise she made. She further says that her mother come to visit her previously too. Everyone looks confused. Before Saksham asks anything to Kesari a fire cracker rolls inside the Modi house and the smoke fills the house. Modi's struggles to see or breath properly. Kesari's mother enters the house.
Kesari gets happy and goes to her and calls her mumma. Kesari's mother puts a mask on Kesari to prevent her from the smoke and hugs her. Mithila asks the men in the family to open all the windows so that the smoke will leave the house and they can able to see Kesari's mother. They all obliges. Mithila turns around and gets shocked seeing Kesari's mother. Kesari's mother gives her a letter and decides to leave but Mithila refuses to let go of her so Kesari's mothet pushes her and runs away from there closing the door. The lights comes. Kesari proudly says her super mother fulfilled the promise she made.
Gopika sees the letter in Mithila's hand and tells her the same. Mithila gives the letter to Gopika and asks her to read it. Gopika reads the letter in which Kesari's mother asks the men in the family to tell the truth who is Kesari's father and they have time till tomorrow morning nine if not then they all have to face the consequences. Mithila tells that she wont let others gets punished for one person mistake and asks the men to tell them the truth before tomorrow morning and leaves the place.
Tejal as Ramila cleans the table. Ramila as Tejal looks busy in her mobile doing something. She sees Tejal as Ramila is expecting someone so asks her who she is expecting to which the latter tells her she will get to know soon. She then asks the neighbors to enter the house and asks Ramila who is playing Tejo's role to take blessings from them. Ramila does the same and the neighbor questions why she is doing all this.
Tejal asks them to ignore and asks Ramila to bring snacks for them. Ramila goes inside and brings snacks for everyone. The neighbors asks what's happening to which Tejal asks them to be happy that they are getting free snacks then asks Ramila to cook food for them. They both gets into an argument for torturing each other deliberately. The neighbor ladies leaves the house taking the snacks.
Hiten comes there and scolds both Ramila and Tejal and tells he thought they both are improving their relationship but they will never change so they dont have a chance to win prize money of the competition and leaves the place. Ramila and Tejal glares at each other and looks away. The men in the family tries to think what they have did in the past. Rajjo stops Munna from sharing a bed with her. Ashi refuses to give coffee to Chirag. Minal locks Keshav inside the bathroom. Gopika uses pillows as a barrier to sleep near Saksham. The next day all four men says to their wives that they dont remember anything. Mithila tells that she feels the men are saying the truth only.
Kesari's mother asks Kesari to tell the family
members she is angry at them and asks her to leave. Kesari does what her mother asked her to. Everyone gets shocked. Ashi reminds them the clock striked nine and worries about the consequences. Inspector and team comes to the Modi house and tells that they get a information in their house child labor is there. Everyone gets shocked and tells no.
The inspector asks whether there is a kid in the house. All men says no but the women says yes. Inspector asks them to give a proper answer to him and tells they will search their house and asks the constable to search the entire house and turns around. Kesari comes there wearing others like a maid carrying a bucket water. She sits on the floor and starts cleaning. The Modi's gets shocked.
Precap: Saksham enters his room angrily and throws the blanket away. Gopika follows him and asks him to calm down. Saksham tells her she knows how he loathes the idea to have a kid then how could they say to inspector he is a father of Kesari. Gopika tells Saksham to not to remind her again and again she dont have a chance to give birth to his child and looks away.
Click to read