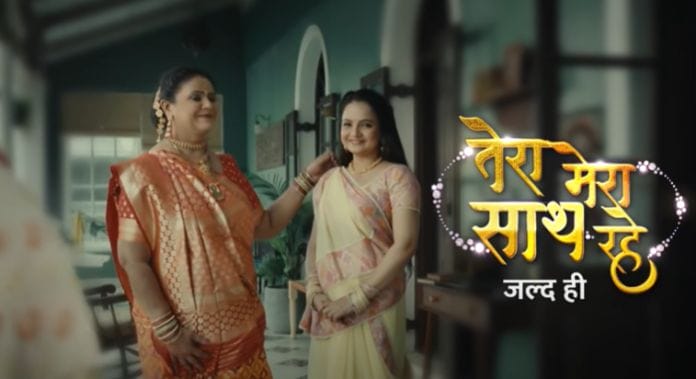 Tera Mera Saath Rahe 31st May 2022 Written Update on TellyExpress.com
The episode starts with Kesari wakes up in the morning and gets happy seeing the Modi's are around there and sings a happy birthday song for her. She thanks them. She then looks for someone. Mithila asks they all are here then who she is looking for. Kesari asks where is Saksham and Gopika. Saksham and Gopika comes there bringing a cake to her room. Kesari gets happy and cuts the cake. She feeds the cake to everyone. Gopika asks Kesari to talk to her mother by putting the earphone on her ear. Kesari tells her mother that the Modi's made her birthday really special by wishing her also she cut her Birthday cake too.
Gopika asks Kesari to invite her mother to her Birthday party. Kesari obliges and pleads her mother to attend her party but the latter refuses and shouts at her which leads Kesari to leave the place crying. Gopika follows Kesari. She asks her the reason behind her being sad on her birthday. Kesari tells every year her mother used to promise her that on her birthday her father will come to them but now her mother is not with her. Gopika gets sad. She tells Kesari her father brought so much gift for her. Kesari asks is she brought gift for her too. Gopika says yes.
Kesari asks her to fulfill her wish to bring her mother to her Birthday party. Gopika gets shocked but agrees to fulfill Kesari's wish which makes Kesari happy who thanks her. Gopika in her room worries how she is going to fulfill the promise she made to Kesari. She then recalls Mithila challenging Kesari's mother which lead her to come to their house the other day. She realises that she has to challenge Kesari's mother. Gopika uses the earphone to talk to Kesari's mother. Kesari's mother firmly says that she will not attend the Birthday party. Gopika tells Kesari's mother that she is right she isn't a mother so never went through an mother's emotion but she is happy that she can use this opportunity to turn Kesari against her.
Kesari's mother tells that Kesari wont leave her for not attending the party of her Birthday. Gopika challenges Kesari's mother to turn Kesari against her which lead Kesari's mother to accept the challenge to come to Birthday party and expose Kesari's father. Gopika gets happy that her plan worked.
Gopika tells Saksham that Kesari's mothet agrees to come to the party. She asks what will happen to their relationship if Kesari is his daughter. Thet both looks at each other without saying anything. Chirag fills the balloons with air. Ashi threatens Chirag about the consequences if he is Kesari's father which scares Chirag. Gopika tells Saksham that she is sure this time also Kesari's mother will not reveal her face but they have to trap her at any cost. Saksham agrees with her and calls the family members and asks them to stay alert during the party and says they have to catch Kesari's mother at any cost. The family members agrees.
Kesari in her room gets ready. She gets upset that she cant able to put the hairband on her head. Gopika comes there and tells Kesari she looks always pretty but she will make her look like an angel today and asks her to close her eyes. Kesari obliges. Gopika helps Kesari gets ready. Kesari likes it. She thanks Gopika for everything she is doing for her. She then asks her will she fulfill her promise. Gopika says yes which makes Kesari happy so she thanks her again and calls her Mummy which shocks both of them. Gopika leaves the place smiling. One of the worker comes there and gives a gift box to Kesari then leaves the room. Kesari gets happy seeing it's a gift from her mother.
The Modi's greets the guests also searches for Kesari's mother. Jigar comes from the hostel. Rajjo gets happy seeing him. She tells him he lost weight to which Jigar says he missed the love she showers on him. He questions about Munna's whereabouts and says it's a cool party and asks where is the Birthday girl. Kesari comes there with a gift box in her hand. She tells the family members that her mother told her party theme should be everyone wear the masks. The Modi's realises its Kesari's mothers plan to not to get caught so Mithila tells Kesari that they can't do it. Kesari gets sad. Gopika tells they all will wear the masks and asks her to give it to the guests.
Kesari gets happy and leaves the place. Gopika tells the family members that Kesari will help them find her mother. They all wears the mask. The light goes off and the spot light gets switches on. Kesari tells it's her mother's voice when her mother says that the party starts. The Modi's gets alert. Jigar and Kesari dances to the song. Saksham misunderstands Gopika as Kesari's mother also Keshav Chirag misunderstands their wives as Kesari's mother. Kesari takes everyone to the dance floor. They all dances with her. Kesari goes to Gopika and asks her where is her gift. The spot light falls on the box.
Everyone gets confused. From the box a Kesari's mother comes out disguising herself as a joker. Saksham goes to approach her but Munna stops him saying he is the one who hired her thinking she is a professional joker. Kesari's mother recalls how she made the professional unconscious and disguised herself as a joker also determines to expose Kesari's father to the Modi's.
Precap: Kesari's mother shares a moment with Kesari. Later Mithila demands Kesari's mother to reveal her face. Kesari's mother tells if she reveals her face then one of their son's truth will come out by pointing at Saksham and Chirag and asks is that okay for them.
Click to read