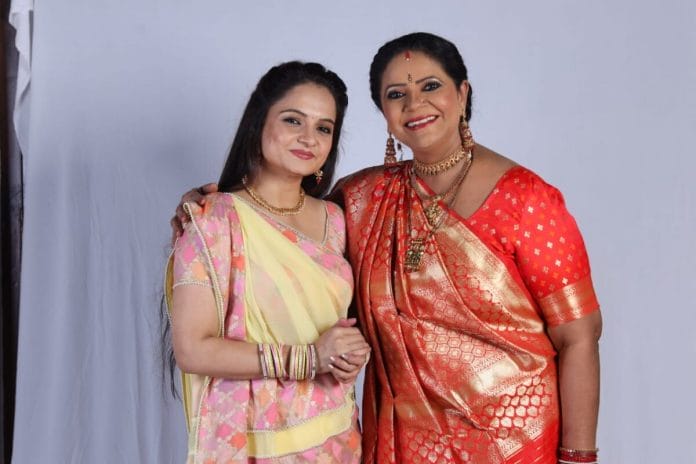 Tera Mera Saath Rahe 6th June 2022 Written Update on TellyExpress.com
The episode starts with the doctor comes to take DNA test. Kesari asks what she have done which lead her to get injection. She then sees doctor is taking another syringe so asks what she has done to take two injections. Saksham tells Kesari that one injection is her's and another one is his.
Kesari tells that she don't want Saksham also to get injected because it must be painful. Shardha tells Kesari that she has to take injection and it will not be painful. Kesari refuses and tries to run away from there but Gopika stops her and tells her if she takes this injection then she will become more stronger also she don't have to worry because the injection isn't that painful. Kesari obliges.
Shradha gets irked seeing it. The doctor takes the sample from both Kesari and Saksham. Gopika asks the doctor how long it will take to get the result. The doctor tells twelve hours then leaves the house. Keshav tells Kesari that her grandfather will give her icecream from getting injected which makes the latter happy and goes with him. Saksham gets annoyed. Mithila and Minal also looks angry. Munna asks Shradha to pack her things to leave the house.
Later Shradha takes the letter which she got the previous night and decides to leave the house but Gopika comes there and asks where she is going in hurry. Shardha says that she can go wherever she wants and tries to walk past her but Gopika stops and asks her to have sweet. Shradha tells she dont have time for this and decides to leave the room. Gopika catches her hand and locks it with her hand shocking Shradha. Shradha asks what is she doing.
Gopika tells she cant risk anything so until the DNA report arrives Shradha have no other option but to stay like this. Shradha gets annoyed and thinks to herself that she has to go there which is more important for her. Gopika looks at Shradha and thinks to herself she can try whatever she wants but this result is equally important to her so wont let her leave the place.
In the dining room everyone assembles to have food. Mithila asks Gopika's whereabouts. Gopika comes there with Shardha. Everyone gets shocked seeing Shardha and Gopika's hands are tied with each other. Kesari asks Gopika why their hands are tied. Shradha taunts Gopika by asking her to give Kesari a proper answer now. Gopika tells Kesari she and Shradha is playing police and thief game in which Shradha is a thief and she is a police so she don't want the thief to run away from there. Kesari asks how could they have food if both of their hands are tied like this.
Gopika tells they can and show her by using her other hand. Shradha deliberately creates a scene saying she can't able to have food because her hand is tied. Gopika asks her to not to create a scene and asks her to have food using the other hand. Keshav tells Gopika what is the need to do all this and asks her to free Shradha's hand.
Saksham gets furious and stands up from his place. Mithila asks Saksham to not to insult food and asks him to leave once he finishes the food but Saksham refuses saying that his stomach is filled with the love they are showing on him and leaves the place. Mithila and Minal glares at Keshav.
In the room Mithila asks Saksham to calm down saying he has to remain calm because the DNA report will come in few hours. Keshav comes there and expresses his disbelief of the way Gopika treating Shardha which leads Saksham to get furious so he lashes out at Keshav saying he is a liar that's why he is supporting someone like Shradha. Mithila raises her hand at Saksham then scolds him for his behavior towards Keshav. She also scolds Keshav for not trusting Saksham.
Keshav tells he don't care about anything and anyone. He will wait for the DNA report result. In the kitchen Gopika sees Shradha is trying to open the lock so she tells Shradha to not to act like a thief who uses hairpin to leave the police custody. Shradha tries to create a scene by asking Gopika how can she call her a thief but Gopika tells her that she can try whatever she want but she will free her only after the report result comes.
Shradha thinks that she has to do something to go there because it's important. She then drinks the entire jug water and drags Gopika with her. Gopika asks where is she going. Shradha says she is going to the washroom. Gopika tells she will accompany her too. She then opens the locks when Shradha asks her is she going to come inside too and wait for her outside.
Munna comes there and praises Gopika for her idea. He then learns Shradha is inside the washroom for last five minutes which leads to doubt him. They both opens the door and gets shocked seeing Shradha isn't there. Someone comes to the hospital and the doctor asks who is that person is.
Shradha comes to the hospital and looks here and there. Someone sees her and when she tries to see that person leaves the place. Gopika and Munna comes to the hospital. Shradha goes to the waiting room where she sits. Someone sees Shradha. Gopika and Munna comes there. Shradha locks her hand with Gopika and gives her thr letter which she received on the previous night in which it states that the person threatens the DNA report will not come in favor of Shradha.
Shradha tells it must be one of the family members so Gopika asks Munna to call everyone to the hospital. The family members comes there and gives their handwriting sample but none matches with the letter. Shradha and Gopika asks each other to write the letter. They both obliges. Their handwriting also not match with the latter. Gopika tells now that they have no other option but to wait for the DNA report result and looks on.
Precap: The doctor gives the DNA report to Gopika. Gopika opens it and gets shocked. Saksham asks her to tell everyone that he is not Kesari's father. Gopika tells that Kesari is Saksham's daughter shocking everyone. Shradha looks relieved.
Click to read