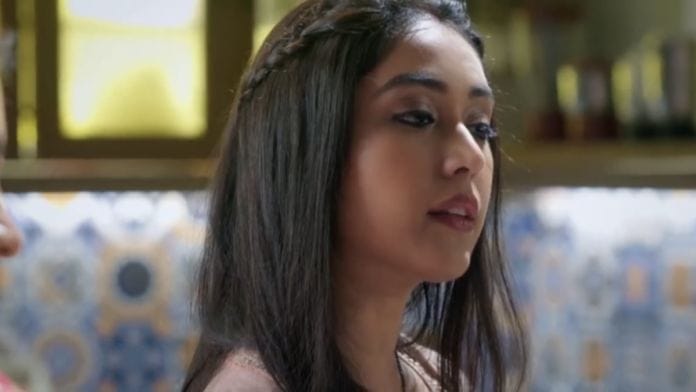 Tera Mera Saath Rahe Spoilers, Upcoming Story, Latest Gossip , Future Story, Latest News and Upcoming Twist on tellyexpress.com
Starbharat show Tera Mera Saath Rahe is gearing up with interesting drama with Gopika decides to give her tenth grade exam. Saksham also supports her decision. Later Gopika will challenge Priya that she wont let anyone have the food made by her. Now it will be interesting to see will Modi's trust Priya's words? What will Gopika do to make Priya fail in her plan to impress the Modi's? Will Priya prove Gopika mixed poison on the food?
In the current track it shown that Gopika makes Saksham calm down. Saksham asks Gopika to be more careful. Gopika promises him also makes him promise to not to take any drastic step without thinking anything. She then tells Saksham that she wants to give her tenth grade exam saying if she was educated enough then that day when Priya Priya fooled him and get his sign she can able to stop it. Saksham asks her not to blame herself. Later Priya decides to impress the family members so she tries to talk to Chirag and Mithila but they both sent her away. While having breakfast Chirag gets upset saying the food is not good so Gopika shares the food which he made but asks the Modi's to not to get used to this. Priya decides to impress the Modi's by cooking food. Gopika mocks Priya and challenges her that she wont let the family members have this food. Mithila decides to not to have food made by Priya but Saksham reminds her her words so Mithila agrees to have today also warns Priya to not to enter the kitchen again. Gopika shows the poison bottle which shocks Priya and she thinks that Gopika mixed poison in it.
In the upcoming episode it will be shown that Priya will ask the family members to not to have the food. The Modi's will look at her confusingly. Priya will say that Gopika mixed poison in the food. Everyone will get shocked.
To know more about what's happening in Your favorite shows keep checking this space.