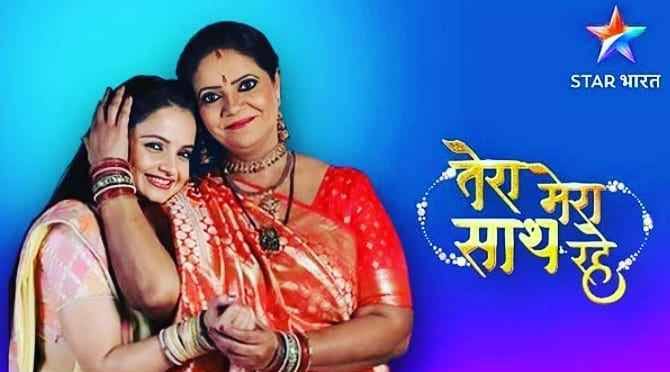 Tera Mera Saath Rahe Spoilers, Upcoming Story, Latest Gossip , Future Story, Latest News and Upcoming Twist on tellyexpress.com
This week Tera Mera Saath Rahe episode starts with Gopika and Saksham learns the one which Kesari is wearing is not a hearing aid but an earphone through which Kesari's mother is hearing their conversation which leads Gopika to question her but the latter insults and refuses to disclose her identity. Kesari tells the Modi's today is her birthday which lead all of them to wish her. Kesari tells her mother that the Modi's are really good which angers her mother. She demands her mother to be with her on her birthday but her mother refuses. Kesari gets upset. Gopika promises Kesari to make her mother attend the birthday party of her's. Later Gopika challenges Kesari's mother to come to the party. Kesari's mother agrees.
Modi's makes a birthday party arrangements for Kesari. They all asks one another to stay alert so that they can able to catch Kesari's mother. Gopika helps Kesari get ready for the party. Kesari reminds her about the promise she made to her. Gopika assures her saying she will fulfill the promise she made to her. Later Kesari tells the Modi's that her mother wants everyone to wear a mask. Modi's realises Kesari's mother's plan to not to get caught. Mithila tries to make Kesari understand but the latter gets upset which leads Gopika to give into Kesari's request. She tells the family members that Kesari will help them identify her mother. Kesari's mother comes to the party disguising herself as a joker. Saksham grows suspicious and decides to question her but Munna stops him saying he is the one who made this arrangements to make Kesari happy. Kesari's mother recalls how she made the one Munna hired unconscious and she entered in the house and smirks.
Modi's searches for Kesari's mother. Kesari's mother dances with Kesari. Gopika sees it. She then tells Saksham something who goes and tells the others and they all searches for Kesari's mother. Sharda gets happy thinking she fooled the Modi's. She asks Gopika her payment for the performance. Gopika questions her about meeting her before. Sharda denies it. Gopika gives her the payment. Kesari pleads Sharda to be with them some more time thinking she is a joker and the latter agrees. Jigar goes to bring juice for Sharda. Sharda suggests Kesari to play hide and seek game. Kesari gets excited and agrees. Later the Modi's searches for Kesari. Sharda tells Kesari that she is her mother making her happy but refuses to meet the Modi's and hurries to leave the house but the Modi's caught her by trapping her inside the net. Sharda reveals her identity and tells everyone she and Saksham spent a night together in a same room which shocks Gopika and the family members.
Gopika asks Saksham to speak to which Saksham tells that he don't remember anything that Shradha is saying. Shradha tells the Modi's how they even discussed about getting married. The FB shows in which both Saksham and Shradha in their drunken state talk about their future and Shardha suggesting to marry each other secretly. Mithila tells half truth and lie will destroy the family so unless Saksham recall everything she wont trust Shradha's words. She also questions Shradha for coming to them after so long not the moment she found out she got pregnant. Shradha justifies herself also accuses Saksham for his reply letter to the letter which she sent to him. Saksham denies it saying he never received any letter nor he sent to any letter to Shradha. Modi's decides to find who that person is. Gopika asks Saksham to make her wear the Mangalsutra when he is sure about himself. The next day Saksham brings his college friend Pakhi to prove himself innocent but Pakhi tells the Modi's she saw Saksham and Shradha in the same bed after the party night shocking Saksham. Shradha asks Saksham if he believes her words now with a tear filled eyes.
Shradha gets angry when Saksham tells that he still dont remember anything so he don't trust Pakhi's words. Mithila warns Shradha and tells that they trust Saksham over her and says because of her arrival there is a rift created between Saksham-Gopika's relationship which she can't tolerate so now she have no other option but to leave. She drags Shradha but Keshav stops and supports Shradha shockiing everyone. Ashi also supports Shradha. Gopika suggests to do a DNA test to find the truth also tells until the report comes both Shradha and Kesari can stay with them. Later Kesari takes Saksham to her room where Saksham sings lullably by laying beside her. Gopika sees this from out of the room and cries. Shradha tells Saksham she is helpless to do all this because Kesari become adamant and started asking for her father. Someone throws the letter at Shradha at night. Shradha reads the letter and looks on shocked.
In the next week viewers will get to see that the Modi's will be seen in the hospital lobby. They all will write something in the notepad. Gopika will compare their handwriting with the letter in her hand. She will tell no one's handwriting is matching. Shradha will say Gopika's handwriting is yet to compare. Gopika will agree to write in the notepad. Both Shradha and Gopika will write in the notepad. Saksham will compare the letter with their notepad and looks on.
To know more about what's happening in Your favorite show Tera Mera Saath Rahe keep checking this space.