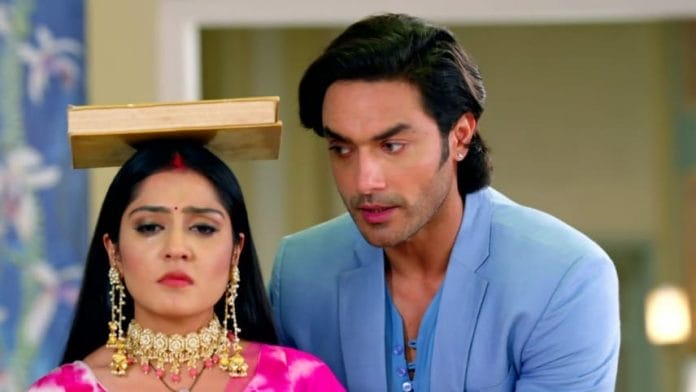 Tere Bina Jiya Jaaye Na 1st June 2022 Written Update on TellyExpress.com
Episode starts with Krisha meeting a famous detective Sudhakar. She tells him about her problem, while he promises not to disappoint her. She gives him the picture of Vamika and ask to find about about her truth. She says that she doubt Vamika haven't said a single truth in her life, while the latter proclaims to find everything about her. He gives confidence to Krisha and goes away in order to search informations about Vamika. Whereas, Krisha gets worried for Devraj's marriage and says that Sudhankar is her last hope to expose Vamika.
Here, Jaya gives the kundali of Vamika and Devraj to the priest and ask him to find out an auspicious date for their marriage. Krisha wishes for a date after a long time, but the priest tells that there is an auspicious date after 5 days only. Krisha gets worried, whereas Ugra says that they can't complete the preparations in such a short notice.
Jaya ask the priest to check if there is some other date, to which the latter checks and tells that there isn't any favourable date for next 1 year. Vamika gets worried, while Jaya says that they can't wait for such long time and fixes the date after 5 days. Krisha gets shocked, whereas Vamika and Jaya smirks.
Elsewhere, Devraj keeps staring at Krisha and then Vamika ask Krisha if she is not happy for them? To which the latter shows her fake smile and says that she is excited for their marriage and ask what gift they want for their wedding? Vamika gets irked seeing Krisha's behaviour, while the latter leaves from there to her room.
Krisha says that only Sudhankar can help her out of the situation. She remembers Vamika's challenge to snatch Devraj and gets tensed, whereas a maid gives Krisha and Devraj's photo frames to her, stating that Vamika has sended it here. At that time Devraj cokes there and talks to Krisha about the sudden changes in their life.
Ahead, Krisha says that he gave up on their love and so she also agrees to his words. He tries to explain his situation to her, while Vamika comes there and gets furious seeing Devraj along with Krisha. She ask him to come with her to shop for their wedding, while he goes unwillingly. Vamika taunts Krisha, while latter insults her stating that Devraj still loves her.
Vamika determines to teach a lesson to Krisha, whereas Rati overhears Raghav and Ugra's plan to kidnap Vamika for 4-5 days in order to avoid the auspicious date for their marriage. Naina also joins them, while Rati gets into a dilemma thinking that whether she should notify about it to Krisha or not?
Further, Sudhankar searches about Vamika and gets suspicious as no one allows him to enter her parent's palace. He goes to a priest who tells him that Vamika is adopted child of Maan Singh. He also notify that the caretaker of Vamika can tell him more about her. Sudhankar goes to find the truth, whereas Devraj and Vamika's wedding preparations gets started. Krisha prays to go for help in order to expose Vamika's truth.
The episode ends.
Also Check: