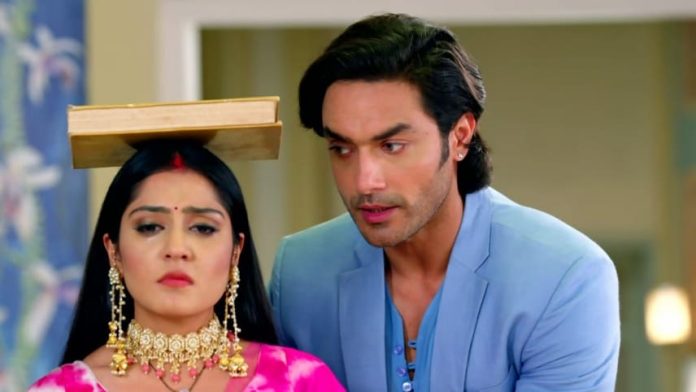 Tere Bina Jiya Jaaye Na 23rd June 2022 Written Update on TellyExpress.com
Episode starts with Devraj asking Krisha about her wish, while she says that she just needs him. He insists her to tell about something, which she has always dreamed about. Krisha tells that it was her childhood desire to get married to a prince, she holds his hands and states that she realised that nothing is more then love and proclaims that she just want to live her life happily with him. She continues that even small gestures of Devraj makes her feel special and ask him to always be with her. Whereas, he kisses her forehead and promises that he will always support her.
Here, Devraj tells that he never wanted to become a prince but his mother has taken a promise from him on her death bed. He tells that from then he used to always prioritise his responsibilities more then any relationship. He then assures Krisha that from now on, she will be his first priority and promises that he will leave all his royality, if he will have to choose in between his kingdom and her.
Krisha gets overwhelmed by Devraj's words and they both smiles. They returns back to the palace, while Jaya welcomes them grandly. She fakes her happiness for Krisha and Devraj's reunion and ask her to enter inside the palace like a newly wedded. Krisha gets inside the palace with Devraj, while Vamika fumes in anger.
Elsewhere, Rati shows her happiness towards Krisha. Whereas, Jaya smirks thinking about her plan against Devraj and Krisha. She determines to destroy their life, while Vamika fakes her apology towards them and Devraj forgives her. Krisha tries to ignore Vamika and then says that she wants to conduct a Puja for their peace.
Jaya agrees to Krisha's wish and goes to call their Purohitji, but Krisha stops her and says that she wants to call her Guruji as they really believes in him. Jaya tries to interrupt Krisha, but Devraj shows his support towards his wife and declares that Krisha's decision will be final.
Ahead, Jaya fumes in anger while Vamika whispers to her that Krisha will soon snatch her place. She instigates Jaya against Krisha, while the latter calls a worker to repair the door of the secret room. Devraj and Krisha also comes there, while the latter wire about it. Jaya tells that there is evil magic inside the room and ask Krisha to stay away from there.
Krisha ties a thread on the lock of the room, while all the family members gathers there. The Guruji starts his puja, while Raghav pays no attention towards it. He was about to leave, but Ugra stops him and ask to stay stating that it will also protect them from the evil powers. She gets scared since the secret door gets opened.
Further, the Guruji assures that he will find a solution for Krisha and Devraj's wellness. He starts the prayers and tells that the vibe of their room isn't suitable for them. He stands up and starts walking around the palace. He goes near the secret room and ask them to shift there. Jaya gets shocked and denies it, telling about the black magic insists the room, but Krisha says that she does believe in it. Devraj also supports her, while Jaya agrees to open it for them. Whereas, Krisha's parents blesses her and leaves from there.
The episode ends.
Also Check: