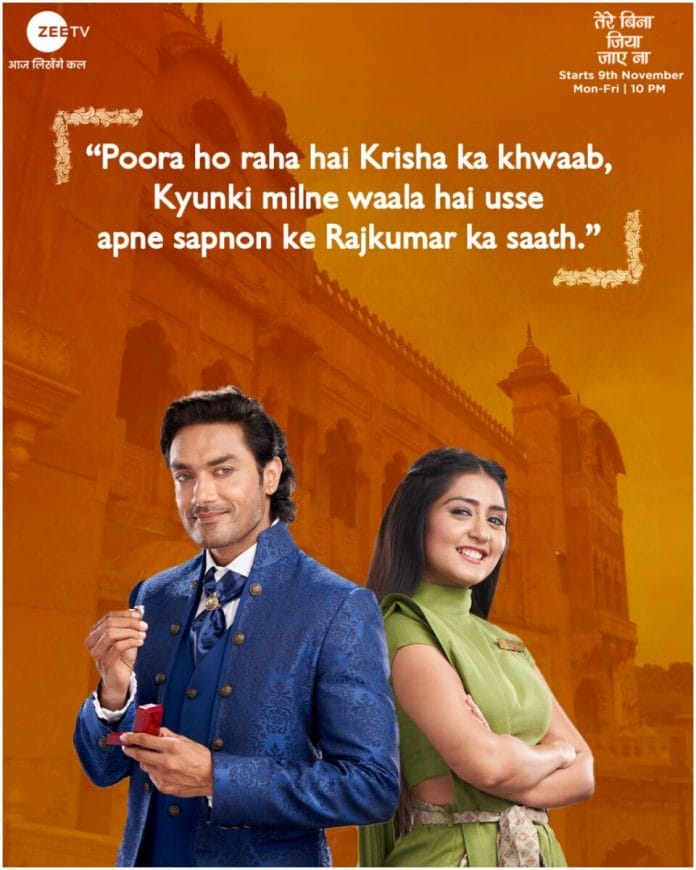 Tere Bina Jiya Jaaye Na 25th May 2022 Written Update on TellyExpress.com
Episode starts with Krisha getting flashes of her moments with Devraj. She cries remembering the differences in between them because of Vamika. Whereas, Devraj also remembers Krisha and gets devastated. He shifts his stuffs in the guest room, while both misses each other. Krisha determines to express her love for Devraj and starts flickering her table lamp. Devraj looks towards her room but then ignores her and sleep after switching his lights off. She becomes sad and gets teary eyes. She consoles herself and determines to fight for her love.
Here, Vamika comes inside Krisha's room and mocks her state. She challenges Krisha that she will make Devraj fall in love with her. She proclaims that Dev will surely fall in love twice and determines to remove Krisha's memories from him. Krisha takes a stand for her love and says that Vamika will fail in her challenge.
Vamika laughs at Krisha and proclaims to snatch her place. She then goes towards Devraj's room, while the latter gets devastated. She imagines Dev in her room and feels his closeness, but soon realises that she was dreaming. Meanwhile, Vamika goes inside Dev's room and puts up an act. She says that she is scared for her child.
Elsewhere, Devraj tries to calm Vamika and makes her sit. He ask her about the issue, to which she fakes her cry and says that she is trying to harm her child and she can't trust herself with the baby. She asks for Dev's help and gets close to him, while he pushes her away and says that he is only marrying her to give name to the baby.
Devraj clearifies his relationship with Vamika, while the latter says that Dev doesn't want to take full responsibility of the baby. She acts to get hurt, while he apologises to her and says that he cares about her and the baby. He makes her sleep on the bed, while she gets up and says that he have to act rude in front of Krisha in order to get rid of her.
Ahead, Krisha goes towards Devraj's room and sees Vamika along with him. Vamika accuses Krisha for killing her baby, while the latter takes a stand for herself. She tags Vamika to be a lier, while Devraj supports Vamika and throws Krisha out of the room. He locks the door in front of her face, while she cries and says that she understands his intentions but proclaims to never leave him.
Devraj also cries feeling helpless, while Vamika smirks. Krisha shares her agony with Rati, while the latter consoles her and encourages her to fight for her love. Krisha gets motivated and determines to keep an eye on Vamika. Meanwhile, Krisha goes towards Dev's room and peeps through the door. She sees Devraj looking after Vamika and caring for the baby.
Further, Devraj gives depression medicines to Vamika but she gets hesitant. He gets busy in the call, while Vamika exchanges the medicine with the other one. Krisha gets shocked seeing it and finds out about Vamika's lie. She determines to expose her in front of everyone and decides to find the proofs against her.
The episode ends.
Also Check: