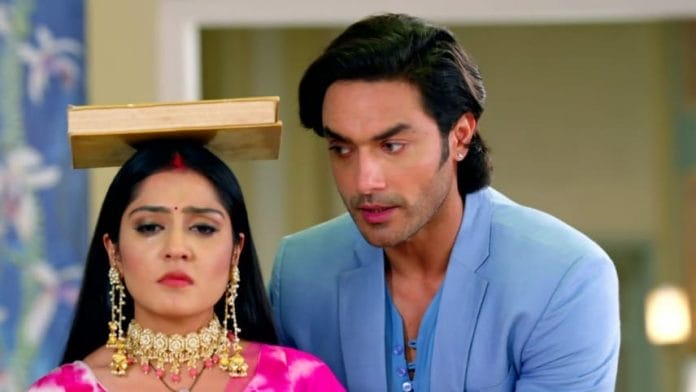 Tere Bina Jiya Jaaye Na 3rd February 2022 Written Update on TellyExpress.com
Episode starts with Rati and Aarav looking after Krisha and aids her wrist. They shows their concern for her, while she replies that she is doing it to cure Darsh. Aarav questions that why they can't tell the truth to Darsh and helps him to recover, to which Krisha shows them the video of Darsh's state when Devraj was hiding him. They gets shocked seeing how Daksh used to harm and tries to kill himself after Maya's accident. She notify that Devraj used to keep him sedated all the time, Orelse he used to injure himself. Aarav gets worried, while Krisha wipes her tears stating that she will do anything to help Devraj to treat Daksh.
Here, Aarav praises Krisha for sacrificing so much for their family. He appreciates her and says that she is really strong. Meanwhile, Rati smiles and puts ice on Krisha's wound. Krisha questions her for coming back, to which Aarav replies that Naina lied to Rati about Ugra being ill and called her back.
Krisha tries to send Rati back to her home, but latter denies stating that she is feeling nice after meeting her. Whereas, Ugra tells Naina that Rati haven't taken the medicine which she have spiked. She says that they will double the dose of spiked drug so that there won't be any chance of Rati to survive. Naina agrees to her plan and smirks thinking about it.
Elsewhere, Darsh gets inside his room and packs all the stuffs for picnic. He dances on the song "Srivalli" due to excitement. Meanwhile, Roma comes there being confused and confronts Daksh. She ask if Maya forgiven him? To which he replies positively. He questions that if she isn't happy for him, to which she fakes her smile and thinks about a plan to expose Krisha.
Krisha gets inside her room while Devraj comes there and hugs her happily. He thanks her for not doing anything to harm herself. He says that he would have been mad if he had done something which could injure her. She hides her tattoo and doesn't tell him about it. Later, they both enjoys moment with eachother.
Ahead, Devraj tells Krisha that she can cancel the plan of picnic of she isn't comfortable, to which she shows him Daksh who was so excited for it. She says tht she can do anything which can make Daksh happy. Meanwhile, Daksh comes there and shares his excitement with Maya. Whereas, Naina ask that why Ugra have given permission to Rati for coming to the picnic? To which Ugra tells her plan that there Rati won't get any medical facility when she gets stroke. She plans to kill Rati, while Naina appreciates the plan.
Everyone comes to the picnic spot and Daksh keeps reminding Maya about their past moments. She enjoys with him and they all plays Antakshari. Naina shows her fake care towards Rati, while Krisha signals Aarav to keep an eye on Rati's safety. Whereas, Rati shares with Krisha that she is missing Raghav.
Further, Krisha and Devraj also dances together "Tere Bina Jiya Jaye Na" song plays. Naina tries to feed spiked sandwiches to Rati, but Krisha somehow saves her. Daksh pranks on them by hiding somewhere, while they gets worried and finally finds him. They scolds him and ask not to do it again. Whereas, Roma pays the goons to harm Krisha. They all starts playing together, while Naina catches Krisha and ask her to find them. She starts searching for them, while goons also comes there.
The Episode ends.
Also Check