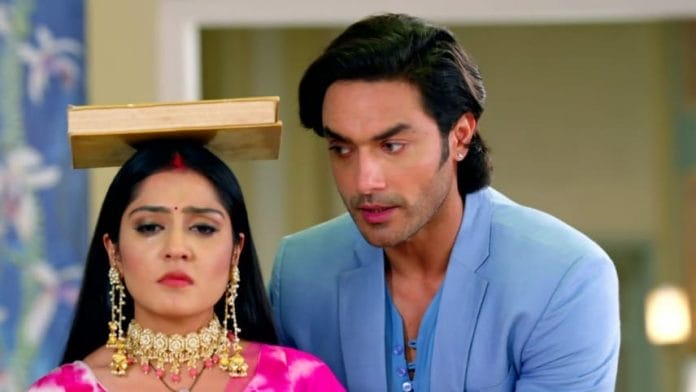 Tere Bina Jiya Jaaye Na 4th February 2022 Written Update on TellyExpress.com
Episode starts with Krisha playing along with Daksh and others. She feels presence of someone and catches Devraj. They both smiles looking at each other, while Krisha hides her tattoo from him. She says that no one can understand her better then him. At that time Devraj remembers Daksh and ask Krisha about him, to which latter gets worried and says that she haven't seen him. They both tries to find him, while Devraj calls others to ask about Daksh. He advices Krisha to stay alert and not get lost in the jungle. He tells her the directions and goes other side in search of his brother.
Here, Krisha gets tensed thinking about Daksh and goes towards the direction instructed by Devraj. Meanwhile, goons finds Daksh and sees the photo sended by Roma to them. They matches it with Daksh and smirks. They surrounds him and started mocking him, they keeps pushing him here and there. He tries to stop them and starts stammering.
Goons makes fun of Daksh and laughs at him. Meanwhile, Daksh shouts for help. As the goons was about to harm Daksh as told by Roma, he fights back with them. They gets shocked seeing the changed behaviour of Dakh, while latter smirks and acts like a mad. He moves closer to them and starts beating them. He handles each of the goons single handedly.
Elsewhere, Daksh notify the goons about his acting skills. He says that he is normal but just pretended to be mad. He reveals his dangerous intentions and says that he was always jealous of Devraj. He also tells that he pretended to be mentally ill since childhood because he didn't wanted to work. He says that he just wanted to enjoy his life and so pretended to be ill, so that Devraj will have to work for everything.
Daksh shows his anger stating that his family have given everything to Devraj, as he was a few minutes elder to him. He call thems out for their partiality and says that he won't forgive them. He also says tht he hated his brother since his childhood as he have gotten everything which he wanted.
Ahead, Daksh reveals his plan of killing Devraj and throwing him out of his life. He keeps assaulting the goons and says that his plan is very effective and will surely be sucessful. He hears someone's footsteps and declares that he can't take risk of leaving the goons alive. He ties heavy stones on them and throws them inside the river.
At that time Krisha comes there, while Daksh started his acting of being innocent. Krisha gets worried for him and ask if he is fine. He pretends to be okay and apologises to her for making them scared. She gets relieved and says that Devraj is worried for him, while he assure and goes along with her.
Further, Devraj shows his concern for Daksh and hugs him tightly showing his care. Meanwhile, Daksh smirks thinking about his plan. He determines to snatch everything from Devraj as he hates him. He decides to start from snatching Krisha from Devraj's life. He smirks thinking that how Krisha is pretending to be Maya. Later, they reaches the palace while Ugra gets frustrated seeing Rati alive. Whereas, Roma gets shocked seeing that Daksh is without any injury.
The end.
Also See: