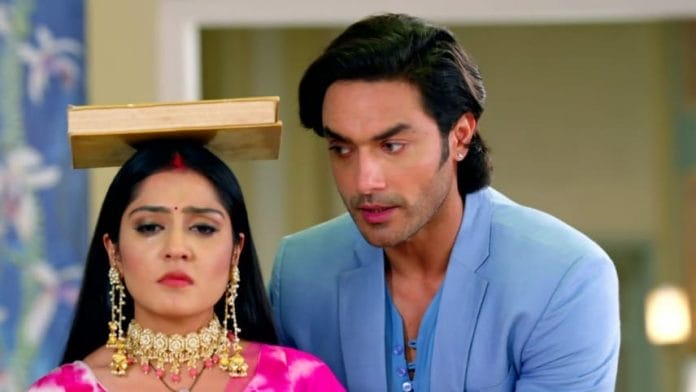 Tere Bina Jiya Jaaye Na 7th June 2022 Written Update on TellyExpress.com
Episode starts with Devraj saving Krisha from falling down and both gets into an eyelock. The haldi falls upon her and the priest says that it's a bad omen for the bride Vamika. Meenakshi smirks and says that the haldi has fallen into the right person, whereas Vamika gets furious and proclaims to do all the rituals again. Krisha faces her and mocks that she have stolen everything from her including Devraj and taunts her to take the haldi also. Vamika becomes angry and rebukes Krisha, while Devraj stops them. Krisha gets frustrated with his behaviour and goes away from there.
Here, Vamika goes inside the room while Jaya follows her. She shows her concern towards Vamika and states that she only have her in the name of her family. Whereas, Vamika consoles her mother and proclaims to take revenge from Devraj. She determines to destroy him and states that she also wants to insult Krisha. She goes out along with Jaya in order to resume her haldi function.
Vamika sits along with Devraj and says that she wants him to out haldi on her. He imagines Krisha in place of Vamika and happily puts haldi on her, whereas Vamika kisses his hand. Krisha gets hurt seeing them, while Devraj realises his mistake and looks at Krisha. Meanwhile, the latter observes Vamika and says that they have to expose her fake pregnancy.
Elsewhere, Doctor Nisha gives her a medicine and ask to mix it on Vamika's drink in order to make her unconscious, so that they can take her blood sample. Whereas, Jaya's goons notify her that they caught the culprit behind Vamika's attack, while the latter orders them to torture him. Meanwhile, Raghav runs away from Jaya's goon but they catches him and punishes him.
Vamika gets photoshoot with Devraj and Jaya, while Rati goes to give her spiked drink. Vamika remembers the past moment when Rati intentionally poured juice on her to stop Aarav and her marriage and denies to take it. Rati gets worried and goes back to Krisha.
Ahead, Nisha says that she have one more pill and gives it to Krisha, while the latter makes a plan. She spikes a drink and gives it to Devraj. He takes a sip, while she snatches from him and says that she will drink the remaining one, but Vamika takes it from her and declares that it's her rights. She gulps the juice, while Krisha gets elated as her plan got successful.
Vamika makes Devraj try some outfits, while he remembers his moments with Krisha. Vamika starts feeling dizzy and sleeps on Devraj's bed, while Jaya makes excuses that she must be tired. They leaves from there, while Krisha sees Devraj sleeping and takes keys of the room and enters inside along with Nisha and Rati.
Further, Nisha takes blood sample of Vamika while Jaya comes there. Krisha and Rati hides behind the cupboard, while Jaya confronts Nisha and the latter makes some excuses. Jaya gets suspicious about Nisha and then wakes Vamika and takes her out of the room. Whereas, Krisha and Rati was also about to go away when Devraj comes there and confronts them.
The episode ends.
Also Check: