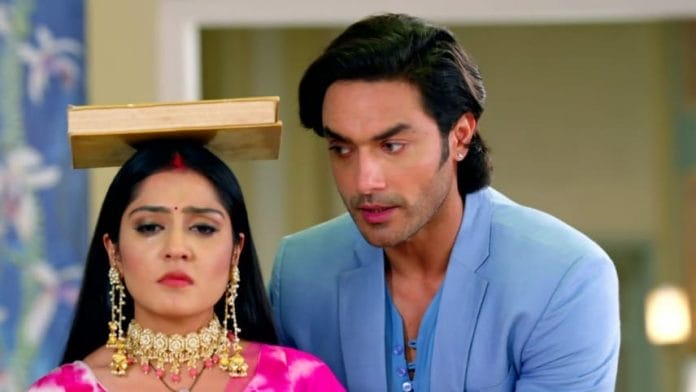 Tere Bina Jiya Jaye Na 11th July 2022 Written Update on TellyExpress.com
Episode starts with Meenakshi celebrating the returning of Virendra, while Naina ask if he is really Devraj's father or a doppelganger. Ugra assures that he is real Virendra, while Gajvardhan gets a call and becomes elated after finding that Devraj won't be able to donate the property anymore, as the power is now shifted back to Virendra. He rejoices along with Raghav and says that they won't have to leave the palace. Whereas, Vamika and Jaya hears their conversation from upstairs and gets furious.
Here, Vamika tells that Jaya's plan gets flopped. She states that everything is going against them, after the arrival of Virendra. She worries about the property and says that how will they get it back? To which Jaya ask her to stay relaxed. She proclaims that after being tortured for so long, Virendra won't be in a state to blurt out anything.
Jaya declares that they will be safe and their secret won't get revealed. She takes her gun and tells that she will kill Virendra along with whole of the Rathore family. She goes inside Virendra's room and shows her fake concern towards him, while Krisha and Devraj looks after him.
Elsewhere, Devraj confronts Virendra about the culprit and insists him to tell about the truth. Virendra looks at Jaya and points towards her, whereas the latter gets scared. Virendra then discloses about the truth and tells that she was the one who tortured him. Devraj along with others gets shocked and the latter shouts at Jaya for betraying them.
Jaya looses her calm and points gun towards Devraj. She kill the everyone, but then realises it to be her dream. She comes back to the reality and sees Virendra doing weird things. Vamika smirks telling that he lost his memory and won't be a threat to them. Whereas, Devraj feels bad for his father and Krisha shows her support towards him.
Ahead, Devraj calls the doctor and she checks Virendra thoroughly. She says that he lost his memory due to extreme torture and advice them to shift him to a mental hospital. Devraj denies to send her father away from him, while she tries to convince him. He says that Virendra will stay in the palace as a king and will deserve all the rights he have as a king. Krisha consoles him and assures the doctor that they will look after Virendra.
Krisha and Devraj cheers Virendra and looks after him well. They makes him shave his beard and gets emotional seeing his old pictures. Devraj misses his mother and proclaims to punish the culprit soon. Whereas, Krisha goes to make food for Devraj and ask the servants about his favourite dish. They were about to tell her, when Jaya comes there and sends all the servants away from there. She tells Krisha not to trust anyone and ask her to make Khichri.
Further, Jaya smirks as she makes a cunning ploy and eavesdrop as Krisha goes to feed Virendra. The latter gets anxiety attack seeing khichri, as he remembers the way Jaya used to torture him. He tries to kill Krisha, while Devraj injects him to get him away from her. Jaya comes there along with Vamika and tells Devraj that Virendra is getting scared of Krisha. She gets successful in sending the latter away from the room.
The episode ends.
Also See: