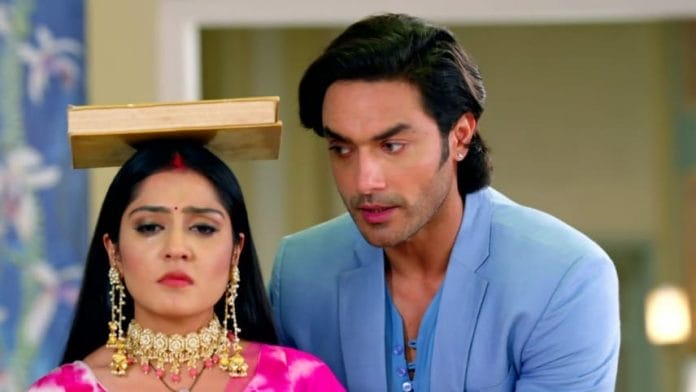 Tere Bina Jiya Jaye Na 11th May 2022 Written Update on TellyExpress.com
Episode starts with Krisha worrying about Aarav while Vamika comes inside her room and looks for Devraj. She smirks and sits on the bed as soon as she realises that Devraj isn't there and starts her drama. She declares that soon she will marry Devraj and remove Krisha from his life, to which Krisha takes a stand for her marriage and proclaims that no one can separate them. Vamika tells that Devraj feels embaressed of Krisha, while the latter tells about the bond she shares with him and gives a befitting reply to Vamika. Krisha states that soon she will expose Vamika's truth and will throws her out of the palace.
Here, Vamika moves around the room and touches Devraj's things. She ask Krisha to notify him that soon she will belong inside his room, while Krisha gets furious and moves her away from there. She glares at Vamika, while the latter gets shocked.
Krisha gives a stamp paper to Vamika and ask to take Devraj's signature to get married to him, Vamika asks if Krisha is fine because no one can marry via a stamp papers, to which Krisha checks her and congratulates her for getting well as her dream of marrying Dev will never come true.
Elsewhere, Vamika becomes furious at Krisha and leaves from there. Where, Devraj gets inside Jaya's room while she starts her emotional drama. She packs her bag to leave the palace and emotionally blackmails him. She tells that she always considered the palace as her home, but today she realised her place. Devraj tries to console her and declares that she means a lot to her.
Devraj somehow stops Jaya from leaving the palace and says that he trust her more then anyone. She smirks as her plan gets successful. Whereas, he ask advice from her about the solution to save the throne of their palace. Jaya tells that if Aarav won't get found then he will be considered as runaway. After that they will have 48hours to stay inside the palace.
Ahead, Jaya says that if Devraj could have married a princes then he would have become the prince of the palace. She advice him to leave Krisha and marry a princess to save the palace, he gets shocked and breaks a glass in his hand. Jaya gets shocked seeing the blood and aids his wounds.
Devraj declares that he can never think about leaving Krisha. Whereas, Krisha shares her worry with Rati, while latter consoles her. Krisha says that everything will get fine, if Aarav will come back. They prays for him and hopes to save the palace. Meanwhile, Dev's father Virendra tries to convince the guard who is keeping an eye on him, to help him. He says that he will free him from the slavery of Jaya and ask to help him.
Further, someone throws a stone inside the room and Krisha along with Rati gets it. Krisha gets shocked seeing the paper along with the stone and rushes to show it to Jaya and Devraj. She gets worried seeing Dev's wound and then shows the paper to them, in which there was a photo of the lawyer who came to meet Jaya. She decodes that he is a fraud and says that someone is trying to fool Jaya, while latter scolds Krisha and leaves from there. Where, Krisha requests Dev to tell the truth to her, while he will notify her about Jaya's advice to leave Krisha and marry a princess, while the latter gets shocked.
The episode ends.
Also See: