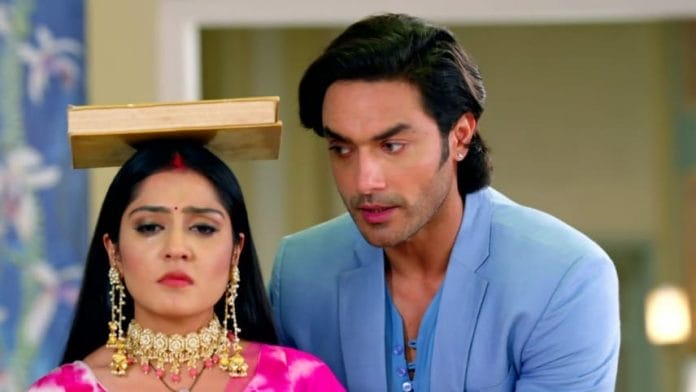 Tere Bina Jiya Jaye Na 12th May 2022 Written Update on TellyExpress.com
Episode starts with Krisha confronting Devraj about the truth, while he tells that Jaya suggested him to leave Krisha in order to save the palace. He says that she asked him to marry any girl from royal background in order to take the throne of Ambikapur, whereas Krisha gets shocked hearing about it. Devraj tries to make her understand that he will never leave her and ask her to trust his love, whereas she gets heartbroken and holds their wedding dress tightly. He shows her the knot of their relationship and says that it will never break. He confesses his love for her and states that he can never imagine about living without her.
Here, Krisha expresses her pain regarding Jaya's statement. She says that she never expected that from Jaya and cries. Whereas, Devraj tries to console her and explains about Jaya's concern towards the palace. She states that she can never even think about breaking their marriage and can never become royals like them as they are heartless.
Devraj faces Krisha and ask her to calm down. He says that isn't going anywhere and will always be in her life. Whereas, she suggests to take a break. She tells that they both needs some times to think about the decision. She leaves from there, whereas Devraj gets worried about her.
Elsewhere, Devraj meets Jaya and tells that he can never break his marriage with Krisha. Whereas, she ask him to think like a prince. She tells that she have notified the royal agency and they will come anytime to seize their palace. He gets shocked and shares his worry with her, whereas she tells that there isn't any other choice rather then him to marry a royal girl.
Raghav peaks inside Vamika's room and stares at her with bad intentions. He murmers that she must be alone as Aarav left her and decides to take an advantage of the situation. Rati hears his words and feels shamed of him. She gets furious for being his wife and stops him as he was about to get inside Vamika's room.
Ahead, Rati rebukes Raghav and gives a warning to him. He gets furious at her and was about to attack when she throws colour on his eyes and face causing him burn inside his eyes. He screams in pain, while she declares that she isn't the same Rati anymore. At that time Vamika comes there and asks if they need any help? To which Rati assures her and says that she will manage.
Vamika meets Devraj and returns his gift. He insists her to keep it and assures to fulfill his promise towards her. Where, she smirks thinking about her ploy. Meanwhile, Jaya confronts Krisha and shows her the proofs that the lawyers weren't fake. She smirks seeing Krisha broken and emotionally blackmails her to protect the family. Krisha assures that she won't let her love come in between the family's reputation.
Further, Krisha shares her pain with Rati and asks God for help. She then tells Devraj that she loves him a lot but can't let their love be a problem for their family. He gets teary eyes and asks God for hell, whereas Jaya comes to him and acts to console him. He says that she knows him better then anyone and declares that he can't betray Krisha for anything.
The episode ends.
Also See: