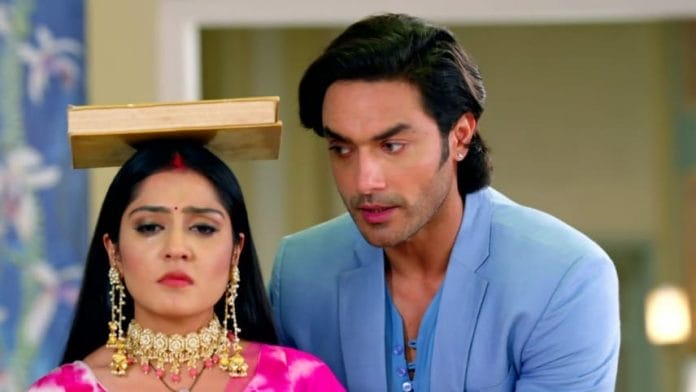 Tere Bina Jiya Jaye Na 13th May 2022 Written Update on TellyExpress.com
Episode starts with the official royal team seizing Rathores palace and wraps all the things in order to keep them for the auction. Devraj along with Krisha and Jaya comes there, while the latter gets shocked seeing it and cries. Krisha stops the agents to take their things and questions that how they can do it? She ask them to give some more time to them, while the guy taunts Krisha stating that she isn't aware of the royal rules and regulations. He notify her that they have to seize all the palace along with the things belongs to it for the bidding. Krisha accuses herself for all the problems, while Devraj goes near her and tries to calm her down.
Here, the royal agents ask Krisha to stay away from their work and tells Devraj that he along with his family have to leave the palace along with the things which they have brought from their own money instead of anything related to the palace itself. Dev nods understanding them and then tries to take Krisha away from there.
Devraj ask Krisha to stay calm and assures that everything will be fine. He says that wherever they wil stay together, that place only will be their home. Meanwhile, the agents seizes things from everyone's room. Rati gets emotional as they takes her baby's toys and some of them gets broken in the process.
Elsewhere, Naina scolds them and says that she won't give up on her things. She then pours her anger out on Krisha and questions why don't she just leave them alone. She says that Devraj is better off from Krisha and gets annoyed with her presence. Krisha bends her head down feeling guilty and cries, whereas Devraj shows his support towards her.
Gajvardhan comes towards Krisha and starts mocking her. He becomes furious at Krisha for her foolness and blames everything on her. He declares that they have to leave their palace only because of Krisha, while she sobs in guilt. Jaya enjoys Krisha's condition and smirks seeing her suffer.
Ahead, Devraj shows his support towards Krisha and takes a stand for her against Gajvardhan. He stops them from talking ill about Krisha and holds her in order to console her. Whereas, the guy ask Krisha to give her ring, as it belongs to the royal property. Krisha remembers the time when Devraj has gifted it to her and becomes emotional, while Devraj assures her to remove it.
Krisha gives her ring to the agent, while he says that if she has money then she can buy it in the bidding. Whereas, Krisha goes out of the house feeling restless. The reporters surrounds her and starts questioning her about the matter. She takes the blame upon herself, while the reports makes it a huge issue. They keeps troubling her, while Devraj comes there and beats them.
Further, Devraj saves Krisha and ask her not to blame herself. He says that he really loves her and can do anything for her. He says that he can never imagine his life without her, while she gets emotional. Later, the bidding started and a man buys the palace. Devraj and his family along with Krisha gets shocked and feels pain. Whereas, Vamika cokes there and notify that she have sold her palace in order to buy their palace, while Krisha gets shocked.
The episode ends.
Also See: