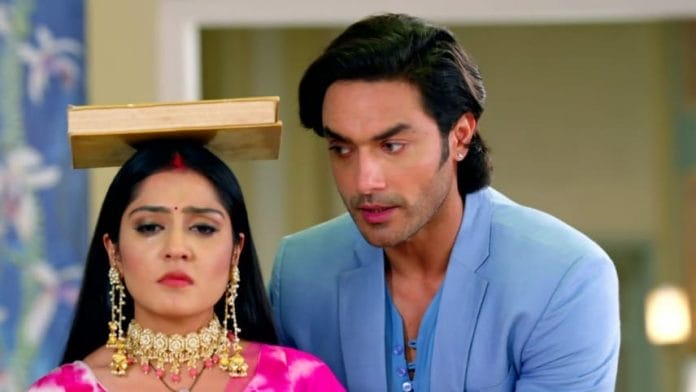 Tere Bina Jiya Jaye Na 16th May 2022 Written Update on TellyExpress.com
Episode starts with Vamika opening the door of the Rathores palace and goes inside along with all the members. Whereas, Krisha and Devraj gets inside holding the God's idol together and places it in the temple. They shows their gratitude towards Vamika for saving their palace, whereas Jaya smirks looking at Vamika as their plan becomes successful. She gets impressed by Vamika's acting and appreciates her. She also proclaims to start second phase of their plan. Meanwhile, Devraj holds Vamika's hand and shows his gratitude towards her for giving their palace back to them.
Here, Vamika starts her emotional drama and says that she understands the value of the palace, as it is related to Dev's parents. She then starts the Puja of the God and gives aarti to everyone. Meenakshi blesses her and says that they are lucky to have her. She moves towards Devraj but gives the aarti plate to Krisha stating that she wants to start a new beginning with her.
Krisha takes the plate and gives the aarti to Devraj. She also goes towards Vamika and puts tilak on her forehead. She fakes a smile towards Vamika, whereas the latter gives the palace keys to Jaya and she takes it immediately. Ugra notices all the moves of Jaya and gets irked by her.
Elsewhere, Devraj goes to talk to Vamika, while she says that Krisha won't like it. He brings Krisha also there and they all sits together. He thanks Vamika for helping them and says that he will always have her favour. He insists her to ask for anything and he will fulfill it. She says that she don't have any demand at that time and declares that she will ask at the right time.
Krisha was about to go from there, when Vamika stops her and tells that she has planned for a press conference to notify everyone that there is no problem inside the palace. She tells that it will clear all the rumours and will help them to build their reputation, while Devraj appreciates her idea.
Ahead, Krisha goes inside Vamika's room and confronts her about her ploy. She says that she knows Vamika's real intentions, while the latter smirks and reveals that she will soon snatch Devraj from her. She declares that she will remove everyone who will come in her way and threatens Krisha.
Krisha goes to her room and gets greeted by Devraj. She apologises to him, while he assures that he isn't angry with her. She says that she doesn't know where is Aarav and she haven't helped him to run away. Devraj consoles her as she worries about Aarav and then gives her the ring. She gets elated after getting it back and he makes her wear it.
Further, Raghav and Naina taunts Vamika, while Gajvardhan and Meenakshi supports her and scolds Naina. Whereas, everyone gets ready for the royal photoshoot, but Meenakshi worries for her son. Jaya ask her to stay strong. Meanwhile, everyone stands there all dressed up in royal dress, except for Krisha. Ugra mocks her and ask if Jaya has given her this? To which Jaya denies and says that she have sended royal dress to Krisha. Whereas, Vamika comes there in Krisha's royal dress and everyone gets shocked.
The episode ends.
Also See: