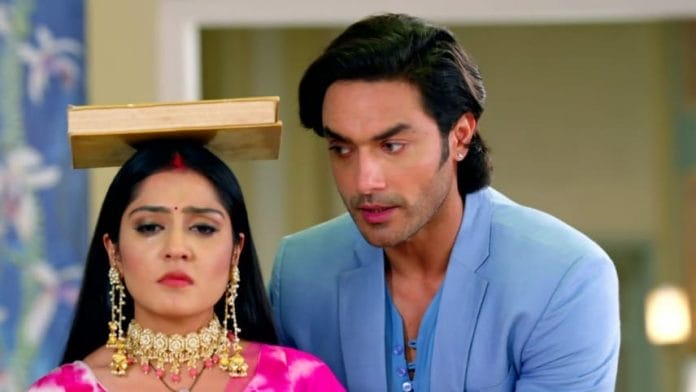 Tere Bina Jiya Jaye Na 17th May 2022 Written Update on TellyExpress.com
Episode starts with Ugra mocking Krisha about her dress for the photoshoot, while Jaya lies that she has sent royal dress to Krisha. At that time Vamika comes there wearing Krisha's royal dress and everyone gets shocked. Jaya puts the blame on the servant for exchanging the dresses and says that it was a mistake. She ask Vamika to change her dress along with Krisha, while the latter denies and says that she can't wear simple outfit like Krisha. She then proclaims to back off and ask Rathores to complete their royal photoshoot without her.
Here, Vamika starts her drama stating that she isn't a part of their family, but Devraj stops her and says that the shoot won't be complete without her. He sits along with Vamika and Krisha on each side of him and tells that no one can snatch Krisha's place in his life and palace, whereas Vamika gets furious.
Vamika gets close to Devraj during the photoshoot, while after completing it Krisha goes back to the room and keeps thinking about it. She feels insecure of Vamika, while Devraj assures her and says that she will always be his only love. She gets elated hearing his words and apologises for being insecure. At that time he gifts her a beautiful royal saree and adorns her with jewelleries.
Elsewhere, Krisha shows her love for Devraj while he also expresses his love towards her. Whereas, Vamika calls a fake doctor and ask her to do as per their plan. She smirks and looks at Jaya, who signals her to start their ploy. Vamika intentionally falls down the stairs, whereas Krisha and Devraj were about to kiss, but stops hearing Vamika's scream and rushes to look for her.
The doctor comes and checks Vamika. Devraj gets worried for her along with Jaya. Whereas, the doctor reveals about Vamika being pregnant. Everyone gets shocked and accuses her, whereas Gajvardhan scolds Vamika for trying to trap them. Meanwhile, she reveals that Aarav is the father of her child but Rati and Krisha denies to believe it.
Ahead, Vamika starts her emotional drama and shows them proofs. Devraj assures to look after her and instructs all the servants. Gajvardhan gets elated learning about it and warns everyone not to trouble Vamika. He gets excited for the baby, as it will rule the palace.
Jaya talks with Devraj and ask him to hide about Vamika's news to maintain their reputation, while he agrees to her. He determines to find about Aarav and ask the police for help. Whereas, Jaya gets worried and proclaims to not let Devraj find another Aarav. Meanwhile, Meenakshi gets tensed for her son and cries while Gajvardhan mocks Aarav and ask Meenakshi to stop her drama. Rati comes to console Meenakshi, while latter regrets her mistake.
Further, Krisha denies to believe Vamika's words and goes inside Aarav's room to check for some proofs. She opens his laptop to see the content which could help her and remembers the pure love of Aarav and Aditi. At that time Devraj comes there and scolds Krisha, whereas she tells him about her suspicion. He takes her out of the room, while Jaya comes there and ask Krisha to prepare a soup. She then takes Devraj along with her to talk about something important.
The episode ends.
Also See: