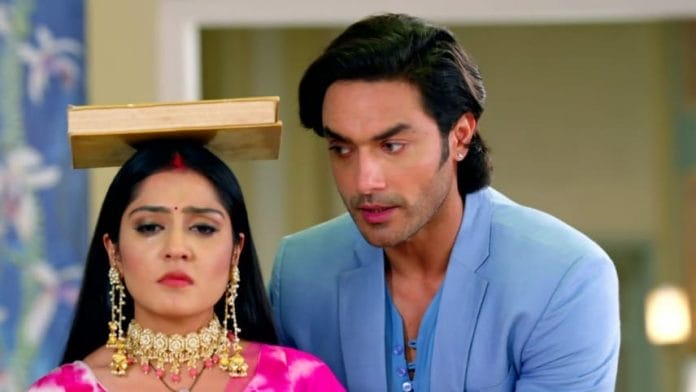 Tere Bina Jiya Jaye Na 1st July 2022 Written Update on TellyExpress.com
Episode starts with Devraj accusing Gajvardhan for being involved in all the incidents. He ask the latter to confess his crimes, but Gajvardhan denies the allegations. He says that he just went inside Jaya's room to take the jewelleries and proclaims that he isn't behind any of the paranormal activities. Devraj gets angry at Gajvardhan and holds his collar. He ask the latter to blurt out the truth and denies to believe him, but Gajvardhan stays firm on his statement. He ask Rathores to trust him, while Krisha feels dizziness.
Here, Meenakshi comes forward and confronts Gajvardhan. She shows her disappointment towards him and ask to tell the truth. She scolds him for stooping so low, while he gets furious and scolds her. They both gets into an argument and accuses one another.
Devraj again shouts at Gajvardhan and gives him a warning. He also threatens him with his life, while suddenly Krisha sees a shadow and gets scared. Devraj holds her and tries to calm her down. He says that no one was there, but she insists him to believe her. She says that she can feel someone's presence and then gets unconscious.
Elsewhere, Gajvardhan ask that if they will accuse him for Krisha's incident also? He tells that he is saying the truth and is nowhere involved in any of the incident. Everyone goes inside their room, while Devraj looks after Krisha.
Jaya smirks seeing Krisha's condition and enjoys her suffering. She reveals herself behind spiking the drink and enjoys teaching a lesson to Devraj and Krisha. Whereas, Krisha gets conscious and tells her fear to Devraj. He worries about her and regret putting her life into danger.
Ahead, Krisha gets fine and assures him that she will be okay. He lightens up her mood and flirts with her. He expresses his love towards her while she smiles and enjoys his company. Meanwhile, Jaya comes there and shows her fake concern towards Krisha. She gives medicine to Krisha and the latter takes it to sleep.
Devraj goes along with Jaya to talk to her. She shows her fake concern towards Krisha and ask him to go back to his previous room. She says that he is putting Krisha's life in danger, while he tells their plan to Jaya. He assures to look after Krisha and then goes back to his room.
Further, Krisha gets scared feeling someone's presence and goes missing. Devraj gets tensed upon not finding her and starts searching for her. Everyone becomes worried while Devraj gets suspicious about Gajvardhan. The latter proclaims that he isn't behind it. Whereas, Raghav tells that Vamika is gone somewhere. Devraj suspects her and goes to ask the security, while Jaya gets worried.
The episode ends.
Also See: