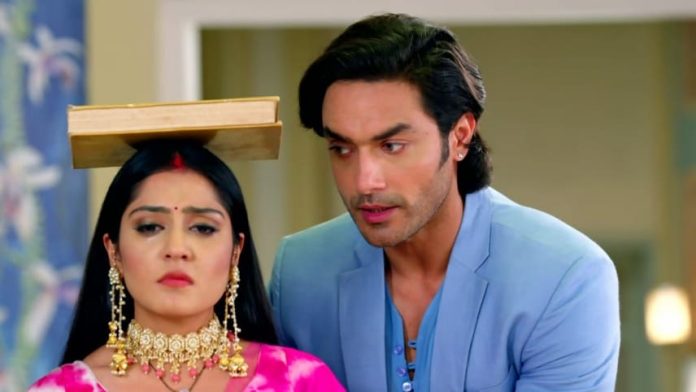 Tere Bina Jiya Jaye Na 24th June 2022 Written Update on TellyExpress.com
Episode starts with Devraj packing his and Krisha's stuffs to shift to the other room. He tries to fit all their clothes into one suitcase but gets unsuccessful. Whereas, Krisha sees him struggling and laughs at his situation. She starts recording his reaction, while he makes excuses that they don't have enough suitcases to pack all their belongings. She teases him and proclaims to post his funny video on the social site. He tries to stop her, while she laughs and says that she was just kidding with him. He glares at her and challenges her to pack the stuffs neatly into the suitcase, while she takes the challenge.
Here, Krisha gets successful in packing their belongings perfectly, while he loses his bet. They both gets close to one another and expresses their love. Devraj smiles seeing Krisha and was about to kiss her, when Rati comes inside their room. She apologises to them and diverts their attention, while they blushes being embaressed.
Rati gets happy seeing Krisha and Devraj together, while Krisha ask him about her visit. She shows her concern towards Krisha and Devraj and prohibits them from shifting into the forbidden room. She says that there is some negative energy behind the door of that room and notify them about the paranormal experience she felt.
Elsewhere, Krisha denies to believe Rati and says that she must be hallucinating things after hearing the ghostly stories of that room. Devraj also supports Krisha and ask Rati not to get worried. Rati tries to convince them and says that when they can believe in positive energy then why is it hard to believe in negative vibes. She again insists Devraj and Krisha to stay in their room, but the latter reminds her about Guruji's suggestion.
Jaya goes towards the forbidden room and sees the workers removing the locks from it. She goes near it and opens the door, while a gust of wind passes by. Jaya gets afraid and closes the door immediately, she gets worried thinking about something. Whereas, Krisha and Devraj also comes there and decides to go inside the room. Raghav says that they have done wrong by opening the door of forbidden room.
Ahead, Meenakshi says that the room reminds her of Devraj's parents as it used to be their room. Jaya shows her concern towards Devraj and ask Vamika to make them wear the black thread to protect them from evil eyes and negative energy. Vamika makes Krisha and Devraj wear the thread and accuses Krisha for all the strange things happening inside the palace.
Krisha and Devraj spends some romantic moments inside the room. Krisha wakes up in the middle of the night and gets scared feelings someone's presence. She wakes Devraj and tells him about her fear, while he calms her down and says that nothing is wrong inside the room. They both again goes to sleep, while in the morning Devraj surprises Krisha by making breakfast for her.
Further, Devraj pampers Krisha and ask Vamika to serve others. She gives bread to Meenakshi, while the latter sees blood in it and gets scared. Everyone becomes shocked and goes to check the house. Vamika accuses Krisha for all the paranormal activity and says that her Guruji only adviced to opened the room and since then everything started. Whereas, Krisha gets worried for everyone and doubts her decision of shifting to the forbidden room.
The episode ends.
Also See: