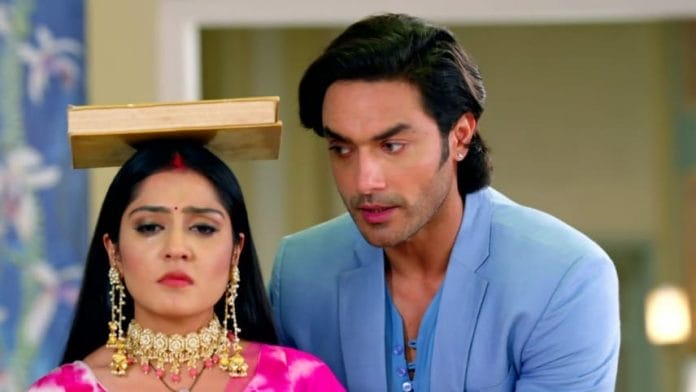 Tere Bina Jiya Jaye Na 29th June 2022 Written Update on TellyExpress.com
Episode starts with Krisha experiencing strange activities. She gets scared but tries to find out the truth. Meanwhile, Devraj comes there and holds her, whereas she shares her experience with him. She notify him that how she was attacked, while he shows his concern towards her. Gajvardhan recalls how Devraj has taken the jewelleries from him and gets furious. He shows his anger in front of Meenakshi and rebukes Devraj. He tells that he was about to clear his loans with the stolen jewelleries, but the latter has spoiled his plan.
Here, Meenakshi takes a stand for Devraj and declares that he has done right. She gets teary eyes recalling Aarav and blames Gajvardhan for it. She calls him a greedy man and proclaims that Aarav died because of his greediness. She shows her frustration in front of him and goes out of the room, whereas Gajvardhan gets angry at her.
Rathores gathers inside Vamika's room, while Jaya proclaims that she was responsible for killing the plants. She shows the burning mark on her bedsheet and tells everyone that Vamika had spilled the poisonous liquid in all the plants to scare everyone, whereas the latter denies all the allegations.
Elsewhere, Vamika tells Devraj that she haven't done anything. She says that she is innocent and insists him to believe her. She looks at Jaya and smirks remembering their plan. She recalls how she caught Raghav hiding the evidence and recorded it. Afterwards, they scared Krisha by showing footprints and then hiding it. Vamika gets flashes of the time when she snatched Krisha's thread from her leg and dropped inside her own room.
Jaya intentionally picks the thread and states that she had tied it on Devraj and Krisha. They all notices that Krisha's thread is missing, while Vamika points out at her for conspiring against her. Krisha denies all the allegations and insists Devraj to believe her. Jaya rebukes Krisha along with Vamika, while Devraj shows his trust on her.
Ahead, Jaya and Vamika gets shocked as Devraj flops their plan. Devraj determines to find the culprit along with Krisha. Whereas, Gajvardhan shows his grudge against Dev, but Meenakshi teaches him a lesson. She takes a stand for her self-respect and declares that he isn't suitable for her. He becomes anxious, while she goes out of the room.
Devraj proclaims to bring out the culprit, while suddenly Krisha experiences a strange attack on her. She gets dragged by an invisible force and gets thrown inside her room. Devraj tries to save her and everyone gets shocked. They all gets perplexed, while Krisha becomes scared. Devraj looks after her and sends everyone out of their room. Meanwhile, Devraj and Krisha laughs and reveals their plan to expose the culprit.
Further, Devraj praises Krisha for her acting. Ugra gets worried and ties protection thread in Naina and Raghav's hand. She also slaps Raghav for not being able to hide the evidence carefully. Meanwhile, Jaya ask Devraj to leave the room. Rati also shows her concern towards Krisha and insists him to close the forbidden room, but Devraj denies. He proclaims to stay inside the room along with Krisha, till he will be able to solve the matter.
The episode ends.
Also See: