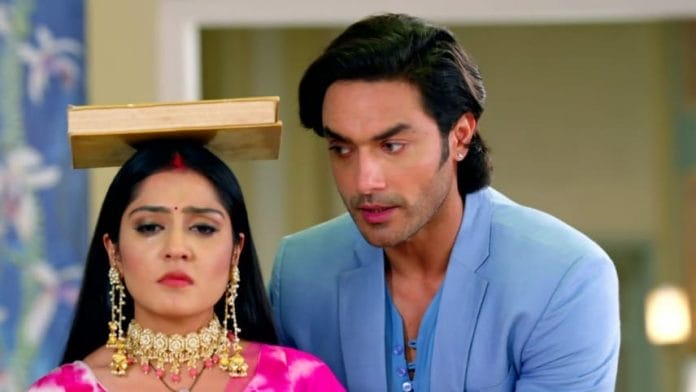 Tere Bina Jiya Jaye Na 30th June 2022 Written Update on TellyExpress.com
Episode starts with Jaya showing her fake concern towards Devraj and Krisha and ask him to shift his room. She insists him to leave the forbidden room, while Rati also ask Devraj to accept Jaya's advice. Whereas, Devraj denies and proclaims Krisha and himself to be responsible for all the misery. He determines to stay in the same room and bear the concequences. He insists his family to pray for Krisha's well-being and then goes back to the room. Jaya again tries to convince him but gets unsuccessful. He locks the door from inside and notify Krisha about everything.
Here, Krisha and Devraj plans to continue their act till they get successful in catching the culprit. Devraj assures that everyone has fallen into his ploy and states that soon they will be able to expose the truth. Devraj shows his concern towards Krisha and ask her to stay alert and safe.
Vamika gets scared and tries to protect herself and Jaya from the ghost. She reminds her mother about the incident where Krisha was attacked, but Jaya denies to believe it. She becomes suspicious about Devraj's behaviour and proclaims to doubt his intentions. She says that he can't be the one who believes in ghosts and determines to find about the truth.
Elsewhere, Rati prepares food for Krisha while Ugra comes into the kitchen. She shows the powder she got from the priest and states that it will protect them. Rati goes towards the temple and meets Meenakshi, who gives prasad to Rati in order to protect them from the paranormal activities. Rati shows her gratitude towards Meenakshi and goes back to the kitchen.
Someone mixes powder inside Krisha's juice and rushes away from there before Rati can see him. Meanwhile, the latter goes towards Devraj's room and gives the food tray to him. She shows her concern towards Krisha and insists to meet her, but Devraj prohibits her and states that she can see her afterwards.
Ahead, Krisha feels bad for Rati and questions Devraj that when they will end the drama? To which he assures her and says that soon everything will get fine. He pranks her while she gets scared. He apologises and assures that there isn't any ghost inside the house and ask her to relax. He makes her drink the spiked juice, while her health gets affected. She goes inside the washroom and sees some scary shadow.
Krisha gets scared and tells about it to Devraj, while he denies to believe it. Meanwhile, Jaya eavesdrop inside their room and finds about their truth. Whereas, Devraj assures to expose the culprit as soon as possible. On the other hand, someone sneaks inside Jaya's room and she gets scared. She shouts for help, while Devraj gets alert and runs to catch the person.
Further, everyone gets awake and Devraj falls into the pool along with the masked person. Devraj catches him and he gets revealed to be Gajvardhan. Devraj blames him to be the culprit, but he denies all the allegations and tels that he went inside Jaya's room just to get back his jewelleries. He shows the proofs but Devraj denies to believe him. Krisha gets worried thinking about the incident.
The episode ends.
Also See: