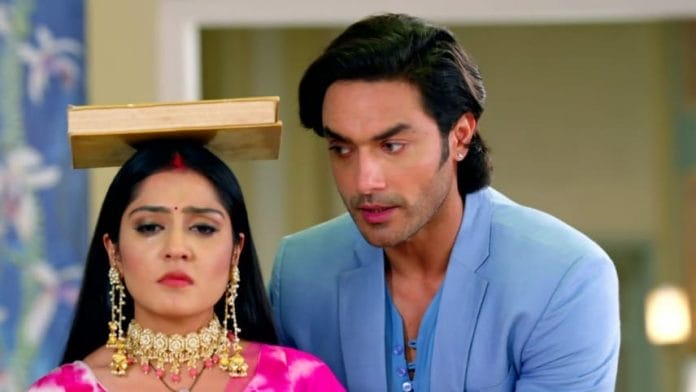 Tere Bina Jiya Jaye Na 4th August 2022 Written Update on TellyExpress.com
Episode starts with Krisha accusing Jaya to be the culprit behind Virendra's state. She connects her phone to the laptop and starts playing the video given by Basanti, but at that time she gets shocked seeing that the video was deleted. She rushes inside the room where she has hidden Basanti and tries to find her but gets unsuccessful. Whereas, Basanti smirks as her plan gets fulfilled. Ugra taunts Krisha for blaming Jaya, while the latter comes out and stays firm on her statement. She proclaims that Jaya was the mastermind behind the destruction of Rathores.
Here, Jaya acts to be shocked by Krisha's allegations and starts her fake acting. Whereas, Devraj gets furious at Krisha and denies to believe her. He says that Krisha must be having some wrong perception, but the latter declares that she is right about Jaya. She insists Devraj to believe her and declares that the latter tortured Virendra inside the basement.
Jaya comes in front of Krisha and fakes her emotional act. She starts crying and says that she never wanted to hurt anyone in the royal family. She says that she is loyal towards them and ask Krisha to believe her. Whereas, Devraj gets angry seeing Jaya's condition and scolds Krisha for blaming his mother.
Elsewhere, Krisha accuses Jaya to be the murderer of Devraj's mother, while he gets furious and was about to slap her but holds himself back. Everyone gets stunned seeing the drama, while Krisha decides to leave the house. She goes inside while Jaya insists her not to leave. She ask Devraj to make her understand, while the latter ask Krisha to clearify the things in between them.
Krisha denies to say anything to Devraj and proclaims that if he doesn't trust her, then she don't want to prove anything to him. He let's her go, while Virendra remembers the flashback and sees Jaya beating him. He recalls his past memories and decides to tell everything to Devraj.
Ahead, Jaya gets inside Virendra's room and threatens him that if he will tell anything to anyone then she will kill Devraj and him. He gets frightened with her and starts shivering. Whereas, Devraj gives one more chance to Krisha and ask her to apologise to Jaya but the latter denies and meets Rati and Meenakshi before leaving the house.
Jaya smirks and mocks Krisha while the latter goes out. At that time Virendra comes there and tells that he remembered everything. He says that Krisha is right and Jaya have snatched almost everything from them. He requests Krisha to stay and help them to fight against Jaya, while the latter agrees.
Further, Krisha comes back inside the house and apologises to Jaya. She accepts her mistake and assures Devraj that she won't accuse Jaya anymore. Jaya challenges Krisha to throw her out of the house, while the latter laughs and accept the challenge to beat her. Meanwhile, Krisha tries to mend her relationship with Devraj but he geta upset with her behaviour. Whereas, Vamika decides to celebrate Jaya and her victory and goes to party, while the latter worries about her daughter's behaviour.
The episode ends.
Also See: