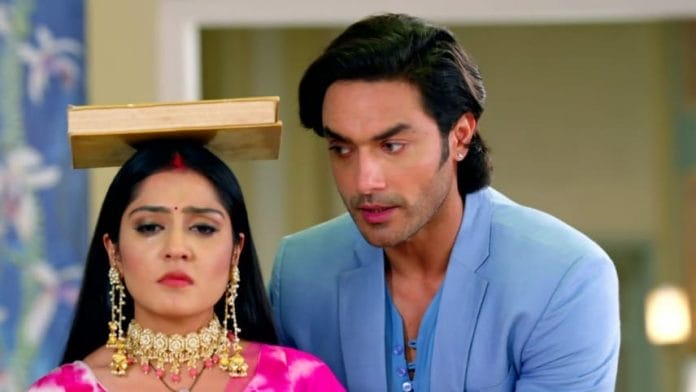 Tere Bina Jiya Jaye Na 7th February 2022 Written Update on TellyExpress.com
Episode starts with Roma getting shocked seeing Daksh unscathed and goes inside his room. She thinks that how can her professional goons couldn't able to harm Daksh and calls on their number. At that time Daksh comes there along with the phone of the goon, while Roma becomes stunned. He confronts her and ask that she have sended goons to kill him, while she stammers and denies it. He speaks without stammering which makes her astonished. He removes his spectacle and stops his acting of being mentally ill.
Here, Roma stays dumbstruck seeing his transformation and gets scared by his statements. He moves close to her and starts suffocating her with his hands. She tries to free herself and apologises for trying to kill him. He reminds her that previously also she have tried to do it and laughs at her failed attempts.
Daksh reveals how he killed the goons which she have sended to harm him and tells that he have even heart her plan. He reveals that he knows she loves Devraj and even knows about Krisha being Maya. He apprises her that not a single secret if hidden from him, while she gets scared of him.
Elsewhere, Daksh tells his plan that he just want to get rid of Devraj. She says that he does value Devraj's love for him, to which he smirks saying he wants Krisha for himself. He advices that they both can work together, so that she can get Devraj while he will get Krisha. Roma agrees to his plan, whereas he suggested to separate th on valentine's day.
Krisha becomes elated thinking about their sucessful picnic. She reminds Devraj about the improving state of Daksh and gets happy thinking that soon he will get fine. Devraj keeps staring at her with a smile on his face. She says that she can't wait for the day, when she no longer have to pretend to be Maya.
Ahead, Devraj tells that he will notify Daksh about Maya's death as soon as he recovers, to which Krisha agrees stating that one should not to be kept in dark for a long time. He also shows his gratitude towards Krisha for helping him and says that Daksh started improving only because of Krisha's hardwork. She smiles and praises him for always looking after Daksh.
Ugra scolds Naina as she couldn't able to give spiked sandwiche to Rati. She gets disappointed on her daughter, for not being able to kill Rati. At that time Rati comes there, while Ugra and Naina gets attentive. Rati asks about Ugra's health, while latter acts to be ill and says that construction on upstairs are making her health worse. She ask if she can shift to her room to have proper sleep? Rati gets into dilemma but Ugra's emotional act convinces, makes Rati agrees to her demand.
Further, Ugra smirks stating that she can keep eye on Rati. Whereas, Daksh goes to Maya's room and ask her help to plan for valentine's day. She agrees to him, while Jaya comes there and tells Devraj that they can't able to find the property papers and gets worried as lawyer is coming to check it. She gets doubtful on the family members stating that they are greedy, while Daksh smirks looking at Maya and whispers to her that it was she who have stolen the papers after her argument with Devraj. Krisha gets shocked and ask him about the place where Maya have hidden it, to which he says that he don't know and gives her clue about the key which can help her to get the papers. He smiles evilly and declares that the key will unfold lot many secrets to Krisha and determines to snatch her from Devraj.
The end.
Also Check