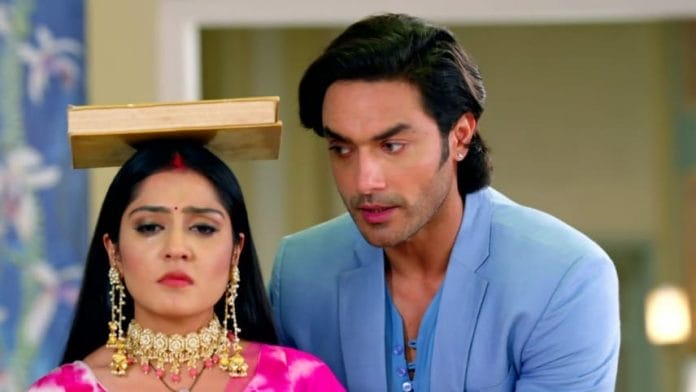 Tere Bina Jiya Jaye Na 8th July 2022 Written Update on TellyExpress.com
Episode starts with Krisha getting inside the secret pathway. She gets nervous but keeps moving inside the room. Whereas, Vamika sees the condition of Virendra and makes fun of him. She pulls him up and makes him sit on the chair. She tells about their plan to torture him and declares that he needs some energy to bear the revenge. She decides to bring food for him and goes away, while he keeps struggling to free himself. Vamika comes there and tries to feed him forcefully, when she hears Krisha's voice. She gets shocked and runs away from there.
Here, Krisha gets dumbstruck seeing Virendra and questions about himself. She ask his name, while he shows the ropes that were tied on his wrists and legs. Krisha feels pity seeing his condition and tries to free him. She goes near him and unties the ropes, while Vamika comes from back and tries to hit Krisha on her head.
Virendra notices her and starts shouting. Krisha gets scared along with Vamika, while the latter runs away from there. Virendra keeps shouting and screaming in order to kill Vamika, but Krisha couldn't able to understand him and gets worried. She tries to go away from him, while he runs behind her.
Elsewhere, Jaya gives the papers to Devraj and ask him to sign it. She smirks seeing that her plan is about to get successful, while Gajvardhan and Raghav panics seeing the property getting out of their hand. Devraj signs the papers, while Jaya ask him to come along with her to the temple. He was about to leave, but then decides to take Krisha also with themselves.
Devraj and Jaya gets inside Krisha's room and gets worried seeing the broken mirror. Devraj gets tensed for Krisha, while Jaya worries about her secret. Devraj sees the secret pathway and goes inside it, while Krisha dashes with him while running away from Virendra.
Ahead, Virendra goes out of the room and reaches the hall. Devraj follows him to stop, while Gajvardhan gets furious seeing a stranger inside their house and confronts him. He gets stunned recognising him to be Virendra and apprises everyone about it. All the family members gets shocked as well as elated seeing Virendra alive.
Devraj gets happy tears while everyone rejoices the moment, except for Jaya and Vamika. The latter gets furious at Krisha for flopping her plans nd determines to kill her. Devraj calms Virendra and tells that he is his son. Virendra gets unconscious, while they takes him inside the room and calls the doctor. The doctor tells that he is weak and needs care. He also gets happy to see Virendra alive and says that whole Ambikapur will celebrate.
Further, Devraj shows his gratitude towards Krisha and determine to punish the culprit. She calms him down, while Jaya acts to be worried for Virendra. She then goes inside Vamika's room and gets furious at Krisha for destroying her revenge plan. Vamika tries to console her mother, while the latter takes her gun and decides to kill Virendra, if he tries to blurt the truth.
The episode ends.
Also See: